Rosé All Day Wine Soap
$ 8.50
---
Sit back and luxuriate in this floral scented rosé soap. Palmarosa, lavender, geranium, and rose essential oil blend compliment the slightly bubbly rosé wine. A blend that smells absolutely divine. A perfect gift for any wine lover. 
Gold mica swirls on top and a line of gold in the middle of 2 layers of light pink. 
Limited inventory available, get yours before they sell out. 
5 oz net wt
Ingredients - Saponified oils of coconut, olive, avocado, and shea butter; rosé wine; essential oil blend; pink kaolin clay; and gold mica
---
Related Items
across the horizon | conversation bar
$ 5.25
---
Minty and crisp. A blend of peppermint, spearmint, tea tree, lemon, rosemary, eucalyptus essential oils...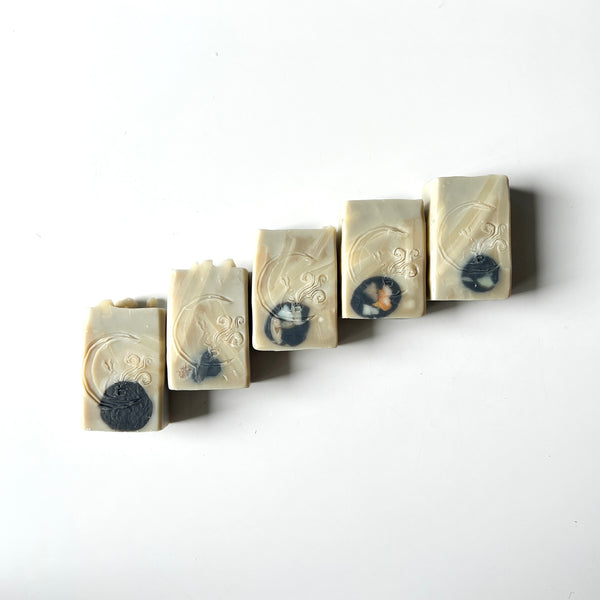 ancient vision | conversation bar
$ 5.25
---
Grounding and enlivening. A blend of 4 types of cedar wood essential oils, along with...
bright tomorrow | conversation bar
$ 5.25
---
Fresh, citrus, and bright blend of orange, rosemary, lavender and citrus essential oils. Colored with...
data-name="Rosé All Day Wine Soap" data-url="https://bunnysbath.com/products/rose-all-day-bar-soap" data-image-url="//bunnysbath.com/cdn/shop/files/A96FF1D5-3240-41C5-B10E-AE359064B1D1_large.jpg%3Fv=1694453171" data-description="<p>Sit back and luxuriate in this floral scented rosé soap. Palmarosa, lavender, geranium, and rose essential oil blend compliment the slightly bubbly <span data-mce-fragment="1">rosé </span>wine. A blend that smells absolutely divine. A perfect gift for any wine lover. </p> <p>Gold mica swirls on top and a line of gold in the middle of 2 layers of light pink. </p> <p>Limited inventory available, get yours before they sell out. </p> <p><span style="font-family: -apple-system, BlinkMacSystemFont, 'San Francisco', 'Segoe UI', Roboto, 'Helvetica Neue', sans-serif; font-size: 0.875rem;">5 oz net wt</span></p> <p><strong>Ingredients</strong> - Saponified oils of coconut, olive, avocado, and shea butter; rosé wine; essential oil blend; pink kaolin clay; and gold mica</p>">