Sweet & Spicy Chai Tea Soap
$ 8.50
---
Sweet, spicy and warming. 
We brewed a strong batch of chai tea and made soap with it. Ground nutmeg and vanilla specks add a bit of exfoliation and a blend of orange, nutmeg, clove, and cinnamon essential oils it is perfectly sweet and spicy. Just in time for the change in wind, light and cool nights. 
Vegan and always palm free.
We have a limited supply, be sure to get your bar before we run out!

5 oz net wt
Ingredients - Saponified oils of coconut, olive, avocado, and shea butter; chai tea; essential oil blend; nutmeg; vanilla specks; and sodium lactate
---
Related Items
across the horizon | conversation bar
$ 5.25
---
Minty and crisp. A blend of peppermint, spearmint, tea tree, lemon, rosemary, eucalyptus essential oils...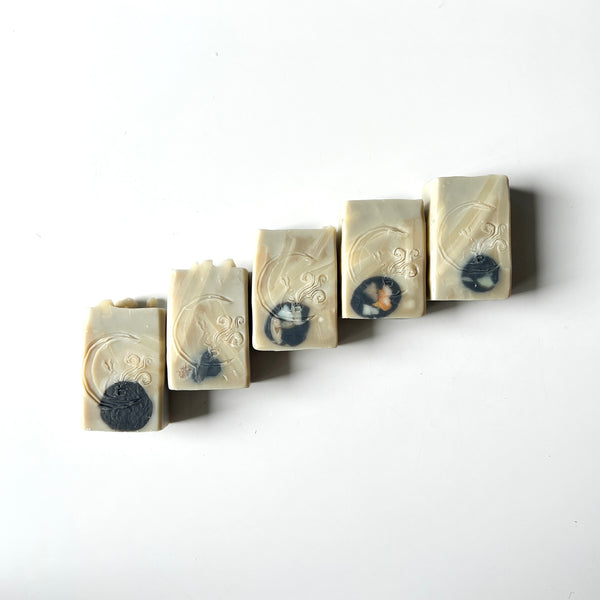 ancient vision | conversation bar
$ 5.25
---
Grounding and enlivening. A blend of 4 types of cedar wood essential oils, along with...
bright tomorrow | conversation bar
$ 5.25
---
Fresh, citrus, and bright blend of orange, rosemary, lavender and citrus essential oils. Colored with...
data-name="Sweet & Spicy Chai Tea Soap" data-url="https://bunnysbath.com/products/sweet-spicy-chai-tea-soap" data-image-url="//bunnysbath.com/cdn/shop/files/FC0BD54E-71A6-477E-B2B3-1F02B86151F3_large.jpg%3Fv=1694214758" data-description="<p>Sweet, spicy and warming. <br>We brewed a strong batch of chai tea and made soap with it. Ground nutmeg and vanilla specks add a bit of exfoliation and a blend of orange, nutmeg, clove, and cinnamon essential oils it is perfectly sweet and spicy. Just in time for the change in wind, light and cool nights. </p> <p>Vegan and always palm free.</p> <p>We have a limited supply, be sure to get your bar before we run out!<br></p> <p>5 oz net wt</p> <p><strong>Ingredients</strong> - <meta charset="utf-8"><span data-mce-fragment="1">Saponified oils of coconut, olive, avocado, and shea butter; chai tea; essential oil blend; nutmeg; vanilla specks; and sodium lactate</span></p>">