Tangerine Forest Bar Soap
Sold Out
Bright and invigorating, tangerine blends beautifully with fir and juniper essential oils. 
Close your eyes and feel the warm citrus forest sun is on your skin. 
This luxurious soap contains 10% skin-softening shea butter plus olive, avocado, and jojoba oils that add wonderful skin care properties. The soaps have been 'super-fatted' with castor oil for extra emollience.
We have a limited supply, be sure to get your bar before we run out!

5 oz net wt
Ingredients - Saponified Oils of Olive, Coconut, Avocado, Shea Butter, and Jojoba; Castor Oil; Essential Oil Blend of Tangerine, Fir, and Juniper; Red Clay
---
Related Items
across the horizon | conversation bar
$ 5.25
---
Minty and crisp. A blend of peppermint, spearmint, tea tree, lemon, rosemary, eucalyptus essential oils...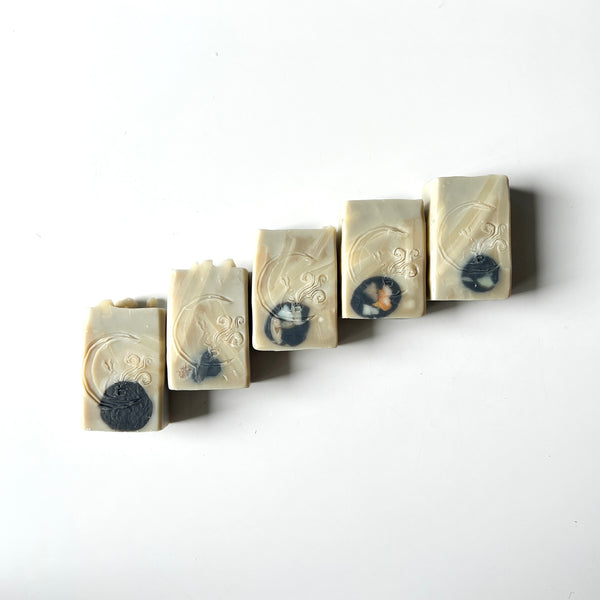 ancient vision | conversation bar
$ 5.25
---
Grounding and enlivening. A blend of 4 types of cedar wood essential oils, along with...
bright tomorrow | conversation bar
$ 5.25
---
Fresh, citrus, and bright blend of orange, rosemary, lavender and citrus essential oils. Colored with...
data-name="Tangerine Forest Bar Soap" data-url="https://bunnysbath.com/products/tangerine-forest-bar-soap" data-image-url="//bunnysbath.com/cdn/shop/files/image_1bbb8420-0619-48b5-ba52-33d27cb747ab_large.heic%3Fv=1682961877" data-description="<p>Bright and invigorating, tangerine blends beautifully with fir and juniper essential oils. <br>Close your eyes and feel the warm citrus forest sun is on your skin. </p> <p><meta charset="utf-8"><span>This luxurious soap contains 10% skin-softening shea butter plus olive, avocado, and jojoba oils that add wonderful skin care properties. The soaps have been 'super-fatted' with castor oil for extra emollience.</span></p> <p>We have a limited supply, be sure to get your bar before we run out!<br></p> <p>5 oz net wt</p> <p><strong>Ingredients</strong> - <meta charset="utf-8"><span data-mce-fragment="1">Saponified Oils of Olive, Coconut, Avocado, Shea Butter, and Jojoba; Castor Oil</span>; Essential Oil Blend of Tangerine, Fir, and Juniper; Red Clay</p>">