the flow of bright days | conversation bar
$ 5.25
---
Citrus and bright. Ground apricot kernel seeds create an exfoliating soap, while a blend of grapefruit, orange, tangerine, lavender, and ginger essential oils brighten your day.
Palm oil free and vegan.
2.6 ounce 

INGREDIENTS - saponified oils of coconut, olive, avocado, almond, shea butter, apricot kernel, jojoba, and castor; essential oil blend; ground apricot seeds
This bar is part of our conversation bar collection. They are a one time run and will not be made again. 
---
Related Items
across the horizon | conversation bar
$ 5.25
---
Minty and crisp. A blend of peppermint, spearmint, tea tree, lemon, rosemary, eucalyptus essential oils...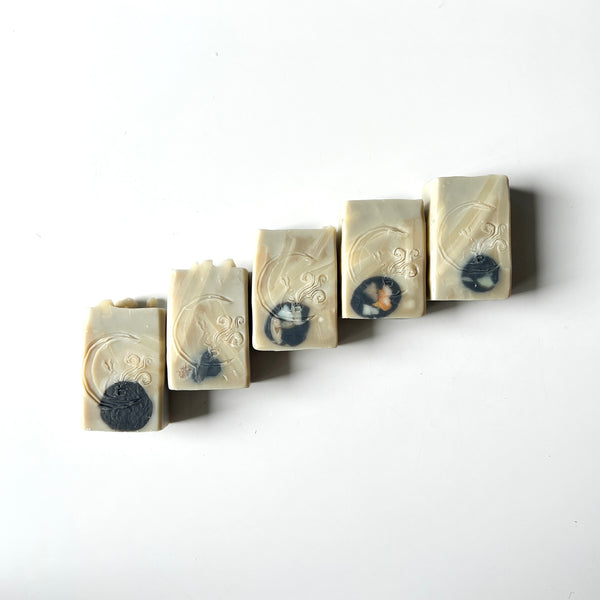 ancient vision | conversation bar
$ 5.25
---
Grounding and enlivening. A blend of 4 types of cedar wood essential oils, along with...
Beard Balm
$ 10.50
---
Use this pure and natural balm as a leave-in conditioner and styling aid to keep...
data-name="the flow of bright days | conversation bar" data-url="https://bunnysbath.com/products/the-flow-of-bright-days-conversation-bar" data-image-url="//bunnysbath.com/cdn/shop/files/FullSizeRender_7971c1a3-9d69-4bf2-b618-ac98c98e5182_large.jpg%3Fv=1694197895" data-description="<p>Citrus and bright. Ground apricot kernel seeds create an exfoliating soap, while a blend of grapefruit, orange, tangerine, lavender, and ginger essential oils brighten your day.</p> <p>Palm oil free and vegan.</p> <p>2.6 ounce <br></p> <p>INGREDIENTS - saponified oils of coconut, olive, avocado, almond, shea butter, apricot kernel, jojoba, and castor; essential oil blend; ground apricot seeds</p> <p>This bar is part of our <a href="https://bunnysbath.com/collections/conversation-bars" title="conversation bar">conversation bar</a> collection. They are a one time run and will not be made again. </p>">