Fallen Leaves Foaming Hand Soap
$ 8.25
---
Golden and down-to-earth, this essential oil blend of orange, frankincense, and cedarwood will remind you of a sunny and crisp autumn day.
Our foaming hand soap is true soap, which are pure saponified oils, and they don't contain any chemical surfactants like sodium lauryl (laureth) sulfate.
Available in an 8 ounce foaming pump bottle or 32oz refill bottle. 
Available for a limited time. Find all of our seasonal products here.
Ingredients
Distilled Water; Saponified Oils of Coconut, Organic Sunflower, and Castor; Glycerin; Sodium Borate (natural source emulsifier, buffer, and water softener); Essential Oils
---
Related Items
across the horizon | conversation bar
$ 5.25
---
Minty and crisp. A blend of peppermint, spearmint, tea tree, lemon, rosemary, eucalyptus essential oils...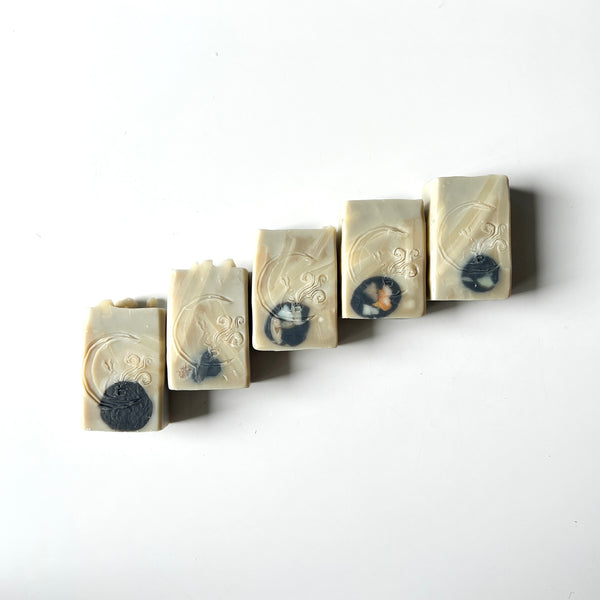 ancient vision | conversation bar
Sold Out
---
Grounding and enlivening. A blend of 4 types of cedar wood essential oils, along with...
Beard Balm
$ 10.50
---
Use this pure and natural balm as a leave-in conditioner and styling aid to keep...
data-name="Fallen Leaves Foaming Hand Soap" data-url="https://bunnysbath.com/products/fallen-leaves-foaming-hand-soap" data-image-url="//bunnysbath.com/cdn/shop/products/image_9a4a0144-06e6-4afd-9e70-9833ca2e4a78_large.heic%3Fv=1664647328" data-description="<p><meta charset="utf-8"><span>Golden and down-to-earth, this essential oil blend of orange, frankincense, and cedarwood will remind you of a sunny and crisp autumn day.</span></p> <p><span>Our foaming hand soap is true soap, which are pure saponified oils, and they don't contain any chemical surfactants like sodium lauryl (laureth) sulfate.</span></p> <p>Available in an 8 ounce foaming pump bottle or 32oz refill bottle. </p> <p>Available for a limited time. <a href="https://bunnysbath.com/collections/seasonal-1">Find all of our seasonal products here</a>.</p> <p><strong>Ingredients</strong><br><span>Distilled Water; Saponified Oils of Coconut, Organic Sunflower, and Castor; Glycerin; Sodium Borate (natural source emulsifier, buffer, and water softener); Essential Oils</span></p>">