Sugar Scrubs
$ 9.00
---
You'll love how soft and smooth your skin will feels when you use these gently exfoliating scrubs.

In addition to sugar, they contain both oil and liquid soap. They're like an exfoliating shower gel. 
Use them to soften and moisturize hands, feet, elbows, or any other rough spots. Just massage gently onto moistened skin in a circular motion, then rinse with warm water.
They are all scented 100% with pure essential oils for beautiful fragrance, and they are loaded with moisturizing oils so be careful not to slip when you use them in the shower! 
Available in
Citrus Zest Brown Sugar* 
Lavender* 
Peppermint Pink Grapefruit* 
Fragrances with an * are scented 100% with Essential Oils
Ingredients
White Sugar; Brown Sugar (Citrus Zest Brown Sugar only); Organic Sunflower Oil; Jojoba Oil; Natural Handmade Liquid Soap (Saponified Oils of Organic Sunflower, Coconut & Castor, Natural Source Sodium Borate); Glycerin; Essential Oil; Natural Mineral Color (Lavender & Peppermint Pink Grapefruit)
---
Related Items
Lip Balm
$ 4.25
---
2 new flavors! Cinnamon and Mandarin Orange Delicious flavors along with emollient and smooth glide...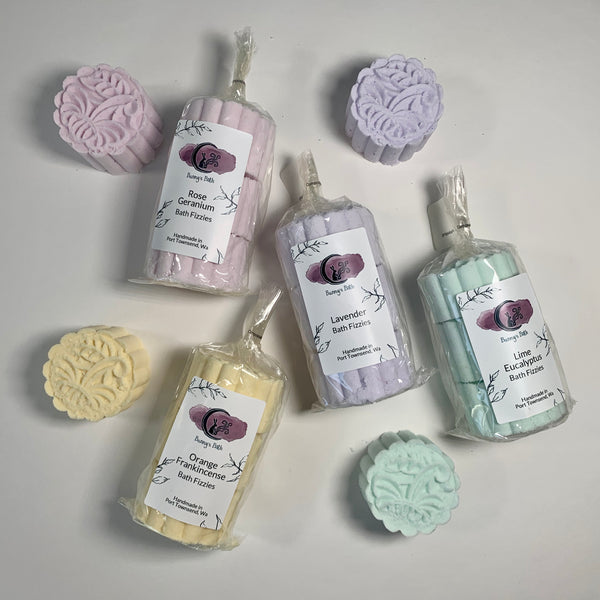 Bath Fizzies
$ 10.00
---
Drop one or two of these beauties into the tub and prepare to enjoy a...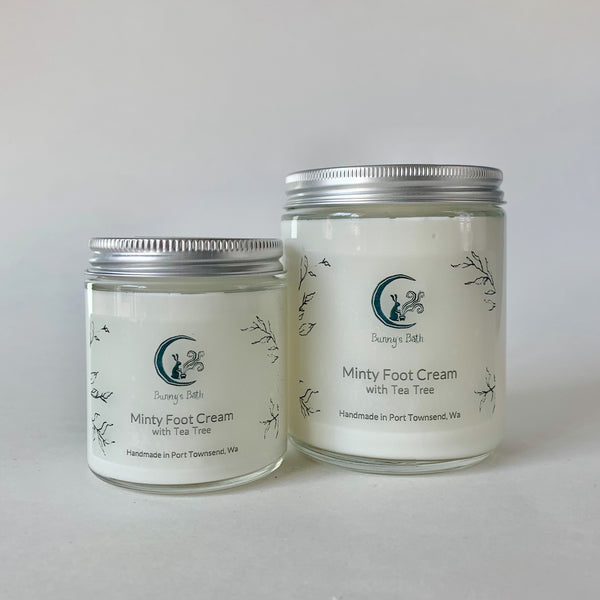 Minty Foot Cream with Tea Tree Oil
$ 11.00
---
Spearmint and peppermint essential oils stimulate circulation to rejuvenate tired feet. The luxurious blend of...
data-name="Sugar Scrubs" data-url="https://bunnysbath.com/products/sugar-scrubs" data-image-url="//bunnysbath.com/cdn/shop/products/image_0a7fe2eb-2a6b-4e3a-bddc-e4031f990057_large.jpg%3Fv=1567119804" data-description="<p><em></em>You'll love how soft and smooth your skin will feels when you use these gently exfoliating scrubs.<br></p> <p>In addition to sugar, they contain both oil and liquid soap. They're like an exfoliating shower gel. </p> <p>Use them to soften and moisturize hands, feet, elbows, or any other rough spots. Just massage gently onto moistened skin in a circular motion, then rinse with warm water.</p> <p>They are all scented 100% with pure essential oils for beautiful fragrance, and they are loaded with moisturizing oils so be careful not to slip when you use them in the shower! </p> <p>Available in</p> <ul> <li>Citrus Zest Brown Sugar* </li> <li>Lavender* </li> <li>Peppermint Pink Grapefruit* </li> </ul> <p>Fragrances with an * are scented 100% with Essential Oils</p> <p><strong>Ingredients</strong></p> <p>White Sugar; Brown Sugar (Citrus Zest Brown Sugar only); Organic Sunflower Oil; Jojoba Oil; Natural Handmade Liquid Soap (Saponified Oils of Organic Sunflower, Coconut &amp; Castor, Natural Source Sodium Borate); Glycerin; Essential Oil; Natural Mineral Color (Lavender &amp; Peppermint Pink Grapefruit)</p>">