Fly Your Flag Soap
$ 8.50
---
Celebrate the diversity of the LBGTQ+ community with this lively rainbow soap scented with a bright and earthy blend of juniper and citrus essential oils and layered with mica, clay and indigo powder. 
This soap encourages you to be proud of who you are and Fly Your Flag.

$1 from each bar of soap sold will be donated to Olympic Pride. The mission of Olympic Pride is to support the LBGTQ+ community on the Olympic Peninsula through awareness, education and community engagement. 
Vegan and palm oil free
5 oz net wt
Ingredients - Saponified Oils of Olive, Coconut, Shea Butter, Cocoa Butter, and Jojoba; Essential Oil Blend; Kaolin Clay; Orange, Gold, Green, and Blue Mica; Red Brazilian Clay; Indigo Powder
*This item is excluded from sales
---
Related Items
across the horizon | conversation bar
$ 5.25
---
Minty and crisp. A blend of peppermint, spearmint, tea tree, lemon, rosemary, eucalyptus essential oils...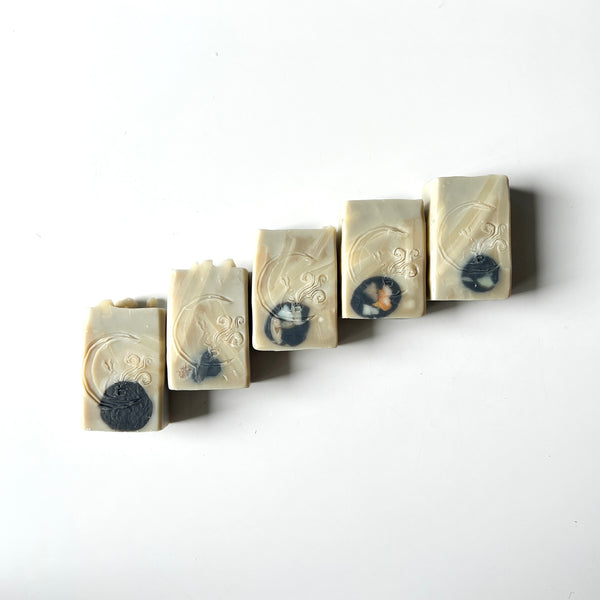 ancient vision | conversation bar
$ 5.25
---
Grounding and enlivening. A blend of 4 types of cedar wood essential oils, along with...
Beard Balm
$ 10.50
---
Use this pure and natural balm as a leave-in conditioner and styling aid to keep...
data-name="Fly Your Flag Soap" data-url="https://bunnysbath.com/products/fly-your-flag-soap" data-image-url="//bunnysbath.com/cdn/shop/products/image_5c27d420-55b7-4b62-a9d6-84aa25c32994_large.heic%3Fv=1655145223" data-description="<p>Celebrate the diversity of the LBGTQ+ community with this lively rainbow soap scented with a bright and earthy blend of juniper and citrus essential oils and layered with mica, clay and indigo powder. </p> <p>This soap encourages you to be proud of who you are and Fly Your Flag.<br></p> <p>$1 from each bar of soap sold will be donated to <a href="https://olympicpride.org/" target="_blank">Olympic Pride</a>. The mission of <a href="https://olympicpride.org/" target="_blank">Olympic Pride</a> is to support the LBGTQ+ community on the Olympic Peninsula through awareness, education and community engagement. </p> <p>Vegan and palm oil free</p> <p>5 oz net wt</p> <p><strong>Ingredients</strong> - Saponified Oils of Olive, Coconut, Shea Butter, Cocoa Butter, and Jojoba; Essential Oil Blend; Kaolin Clay; Orange, Gold, Green, and Blue Mica; Red Brazilian Clay; Indigo Powder</p> <p>*This item is excluded from sales</p>">