Cream Deodorant
$ 10.50
---
This aluminum-free natural cream deodorant is gentle and non-greasy.
It uses zinc oxide, silver citrate, and activated charcoal to fight perspiration odor. Bacterial growth in perspiration causes it to partially decompose, which causes odor.
Zinc and silver both slow the odor producing process in perspiration by partially inhibiting bacterial growth.
Activated charcoal absorbs thousands of times its own mass so it helps to absorb odors and moisture. 
Just spread a small pea-size amount onto the entire clean underarm area and continue to massage until it is clear.
Packaged in a 2 ounce food safe, dishwasher safe glass jar. 
Ingredients
Distilled Water; Organic Virgin Coconut Oil; Olivem 1000 (emulsifier developed from natural olive chemistry, contains Cetearyl Olivate and Sorbitan Olivate); GMS (emulsifier and skin conditioning agent that is approved for organic products. Contains Glyceryl Stearate, which is a vegetable derived monoester of glycerin and stearic acid); Dry-Flo TS (modified tapioca starch); Z-Cote Zinc Oxide; Vitamin E (T-50); Silver Citrate; Activated Charcoal; Aloe Vera; Citric Acid; Potassium Sorbate
---
Related Items
across the horizon | conversation bar
$ 5.25
---
Minty and crisp. A blend of peppermint, spearmint, tea tree, lemon, rosemary, eucalyptus essential oils...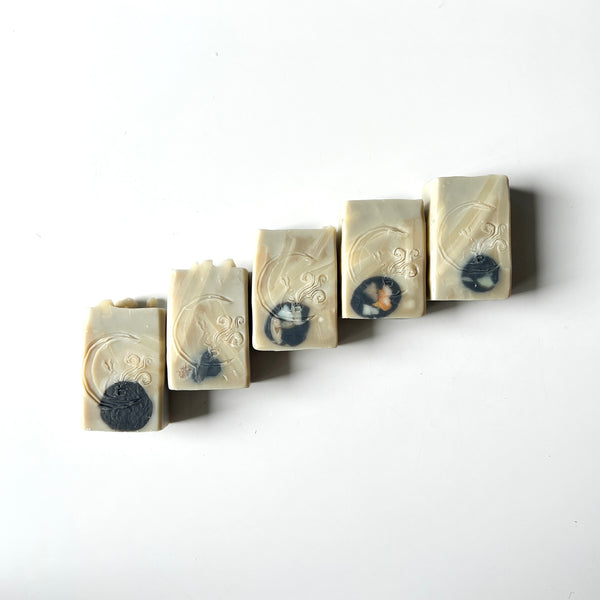 ancient vision | conversation bar
$ 5.25
---
Grounding and enlivening. A blend of 4 types of cedar wood essential oils, along with...
Beard Balm
$ 10.50
---
Use this pure and natural balm as a leave-in conditioner and styling aid to keep...
data-name="Cream Deodorant" data-url="https://bunnysbath.com/products/natural-cream-deodorant" data-image-url="//bunnysbath.com/cdn/shop/products/image_79b3b5ed-86da-444c-9f9b-4cb43016837c_large.jpg%3Fv=1577973354" data-description="<p><em></em>This aluminum-free natural cream deodorant is gentle and non-greasy.</p> <p>It uses zinc oxide, silver citrate, and activated charcoal to fight perspiration odor. Bacterial growth in perspiration causes it to partially decompose, which causes odor.</p> <p>Zinc and silver both slow the odor producing process in perspiration by partially inhibiting bacterial growth.</p> <p>Activated charcoal absorbs thousands of times its own mass so it helps to absorb odors and moisture. </p> <p>Just spread a small pea-size amount onto the entire clean underarm area and continue to massage until it is clear.</p> <p>Packaged in a 2 ounce food safe, dishwasher safe glass jar. </p> <p><strong>Ingredients</strong></p> <p>Distilled Water; Organic Virgin Coconut Oil; Olivem 1000 (emulsifier developed from natural olive chemistry, contains Cetearyl Olivate and Sorbitan Olivate); GMS (emulsifier and skin conditioning agent that is approved for organic products. Contains Glyceryl Stearate, which is a vegetable derived monoester of glycerin and stearic acid); Dry-Flo TS (modified tapioca starch); Z-Cote Zinc Oxide; Vitamin E (T-50); Silver Citrate; Activated Charcoal; Aloe Vera; Citric Acid; Potassium Sorbate</p>">