Hand & Body Lotion
$ 18.00
---
This moisturizing hand & body lotion is rich with nourishing oils, beautifully scented with pure essential oils, and enhanced with herbal extracts. You'll love the way it moisturizes and softens dry skin without feeling greasy. And it's all natural, so go ahead and slather it on and enjoy the wonderful way it makes your skin feel.
8 ounce glass bottles & 16oz plastic bottles 
Available in:
Basil Patchouli*
Fragrance Free 
Fresh Citrus*  
Juniper Bergamot*
Lavender* 
Lavender Vanilla (Essential Oil & Fragrance Oil) 
Lemongrass Tangerine* 
Palmarosa Grapefruit* 
Rose Geranium* 
Walk in the Woods* - NEW SCENT
Fragrances with an * are scented with 100% with Essential Oil

Ingredients
Distilled Water; Organic Virgin Coconut Oil; Emulsifying Wax NF; Avocado Oil; Apricot Kernel Oil; Glycerin; Cocoa Butter; Jojoba Oil; Fractionated Coconut Oil (Caprylic/Capric Triglyceride); Essential Oil and/or Fragrance Oil (except Fragrance Free); Lactic Acid; Stearic Acid; Calendula Flower Extract; Chamomile Flower Extract; Rose Flower Extract; White Willow Bark Extract; Red Clover Flower Extract, Elder Flower Extract; Vitamin E (T-50); Citric Acid; Potassium Sorbate
---
Related Items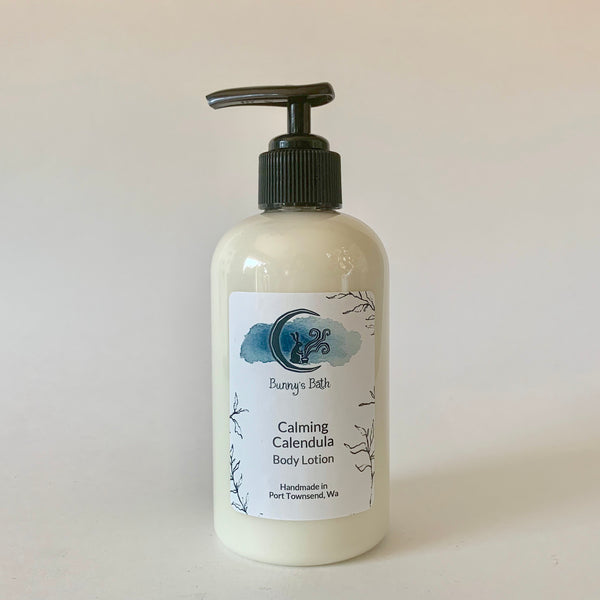 Calming Calendula Body Lotion
$ 18.50
---
Use this soothing lotion any time your skin is chaffed, rough, or needs extra moisture. This...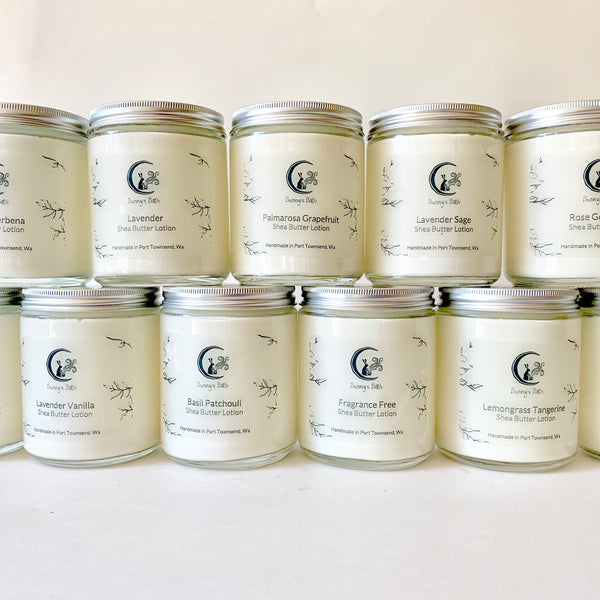 Shea Butter Lotion in a Jar
$ 20.00
---
This lotion is sure to moisturize the driest of skin without being greasy.  It is...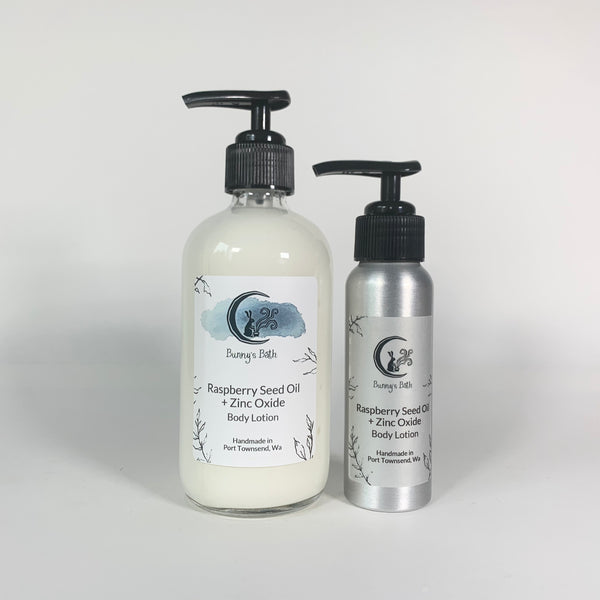 Raspberry Seed Oil Lotion with Zinc Oxide
$ 9.25
---
This creamy lotion is made with Red Raspberry Seed Oil, which reportedly may act as...
data-name="Hand & Body Lotion" data-url="https://bunnysbath.com/products/hand-body-lotion" data-image-url="//bunnysbath.com/cdn/shop/products/26F4A7D0-6AF5-4F08-A6C6-C7844BA8954C_large.jpeg%3Fv=1565819697" data-description="<p>This moisturizing hand &amp; body lotion is rich with nourishing oils, beautifully scented with pure essential oils, and enhanced with herbal extracts. You'll love the way it moisturizes and softens dry skin without feeling greasy. And it's all natural, so go ahead and slather it on and enjoy the wonderful way it makes your skin feel.</p> <p>8 ounce glass bottles &amp; 16oz plastic bottles </p> <p>Available in:</p> <ul> <li>Basil Patchouli*</li> <li>Fragrance Free </li> <li>Fresh Citrus*  </li> <li>Juniper Bergamot*</li> <li>Lavender* </li> <li>Lavender Vanilla (Essential Oil &amp; Fragrance Oil) </li> <li>Lemongrass Tangerine* </li> <li>Palmarosa Grapefruit* </li> <li>Rose Geranium* </li> <li>Walk in the Woods* - NEW SCENT</li> </ul> <p>Fragrances with an * are scented with 100% with Essential Oil <br><br><strong>Ingredients</strong><br>Distilled Water; Organic Virgin Coconut Oil; Emulsifying Wax NF; Avocado Oil; Apricot Kernel Oil; Glycerin; Cocoa Butter; Jojoba Oil; Fractionated Coconut Oil (Caprylic/Capric Triglyceride); Essential Oil and/or Fragrance Oil (except Fragrance Free); Lactic Acid; Stearic Acid; Calendula Flower Extract; Chamomile Flower Extract; Rose Flower Extract; White Willow Bark Extract; Red Clover Flower Extract, Elder Flower Extract; Vitamin E (T-50); Citric Acid; Potassium Sorbate</p>">