Cool Down Body Mist
$ 8.50
---
Having hot flashes? Feeling stressed? Just need to cool down for a moment?

This mist works great to help you chill out.
Made with witch hazel, aloe vera, and an aromatherapy blend of cooling essential oils. 
Spray on your body, soles of the feet, back of the neck and/or pressure points for instant relief.
Keep in the refrigerator for extra cooling.
Packaged in a 4 oz aluminum bottle with a 360 degree mister.
Ingredients
Distilled Water; Aloe Vera Gel; Glycerine; Essential Oil Blend of Geranium, Peppermint, Lavender, Lemon, & Clary Sage
---
Related Items
Lip Balm
$ 4.25
---
2 new flavors! Cinnamon and Mandarin Orange Delicious flavors along with emollient and smooth glide...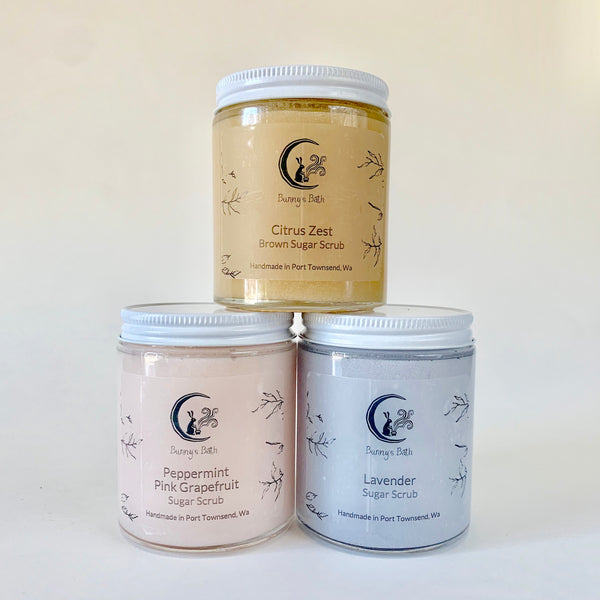 Sugar Scrubs
$ 9.00
---
You'll love how soft and smooth your skin will feels when you use these gently...
Cream Deodorant
$ 10.50
---
This aluminum-free natural cream deodorant is gentle and non-greasy. It uses zinc oxide, silver citrate,...
data-name="Cool Down Body Mist" data-url="https://bunnysbath.com/products/cool-down-body-mist" data-image-url="//bunnysbath.com/cdn/shop/products/image_eaff35d8-7227-41e1-916e-48a5900aa739_large.jpg%3Fv=1570151822" data-description="<p>Having hot flashes? Feeling stressed? Just need to cool down for a moment?<br><meta charset="utf-8"></p> <p>This mist works great to help you chill out.</p> <p>Made with witch hazel, aloe vera, and an aromatherapy blend of cooling essential oils. </p> <p>Spray on your body, soles of the feet, back of the neck and/or pressure points for instant relief.</p> <p>Keep in the refrigerator for extra cooling.</p> <p>Packaged in a 4 oz aluminum bottle with a 360 degree mister.</p> <p><strong>Ingredients</strong></p> <p>Distilled Water; Aloe Vera Gel; Glycerine; Essential Oil Blend of Geranium, Peppermint, Lavender, Lemon, &amp; Clary Sage</p>">