Bug Repellent Spray
$ 8.25
---
This natural bug spray is great for those who want to avoid DEET.
It is a water-based solution that contains a proprietary blend of essential oils that repel flies, mosquitoes, and other biting insects.
The essential oils include Lemon Eucalyptus, which was recently approved by the CDC (Center for Disease Control) as an effective repellent, plus Catnip, Peppermint, Lemongrass, and more.
Just mist lightly on exposed skin as needed, avoiding face and eyes.
We've upgraded to a 4 oz aluminum bottle with a spray top that works in all directions (360 degrees of spraying).

Ingredients
Distilled Water; Aloe Vera Gel; Polysorbate 20; Essential Oils
---
Related Items
Lip Balm
$ 4.25
---
2 new flavors! Cinnamon and Mandarin Orange Delicious flavors along with emollient and smooth glide...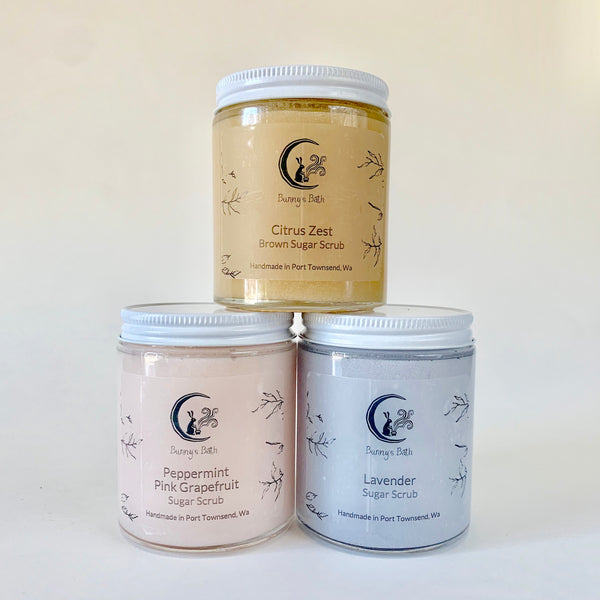 Sugar Scrubs
$ 9.00
---
You'll love how soft and smooth your skin will feels when you use these gently...
Cream Deodorant
$ 10.50
---
This aluminum-free natural cream deodorant is gentle and non-greasy. It uses zinc oxide, silver citrate,...
data-name="Bug Repellent Spray" data-url="https://bunnysbath.com/products/natural-bug-spray" data-image-url="//bunnysbath.com/cdn/shop/products/image_d51f8dd7-450c-4259-854f-8297c4dac7a7_large.jpg%3Fv=1568822080" data-description="<p><em></em>This natural bug spray is great for those who want to avoid DEET.</p> <p>It is a water-based solution that contains a proprietary blend of essential oils that repel flies, mosquitoes, and other biting insects.</p> <p>The essential oils include Lemon Eucalyptus, which was recently approved by the CDC (Center for Disease Control) as an effective repellent, plus Catnip, Peppermint, Lemongrass, and more.</p> <p>Just mist lightly on exposed skin as needed, avoiding face and eyes.</p> <p>We've upgraded to a 4 oz aluminum bottle with a spray top that works in all directions (360 degrees of spraying).<br><br><strong>Ingredients</strong><br>Distilled Water; Aloe Vera Gel; Polysorbate 20; Essential Oils</p>">