Talc-Free Body Powder
$ 7.50
---
This silky powder is perfect for soothing delicate skin and is made without talc or fragrance. Allantoin helps sooth skin irritation and silk powder gives it a luxurious feel. 
This powder is great for little kiddos in diapers. 
3.25 oz net wt 

Ingredients
Arrowroot Powder, Corn Starch (modified), Kaolin Clay, Tapioca Starch, Allantoin, and Silk Powder
---
Related Items
Lip Balm
$ 4.25
---
2 new flavors! Cinnamon and Mandarin Orange Delicious flavors along with emollient and smooth glide...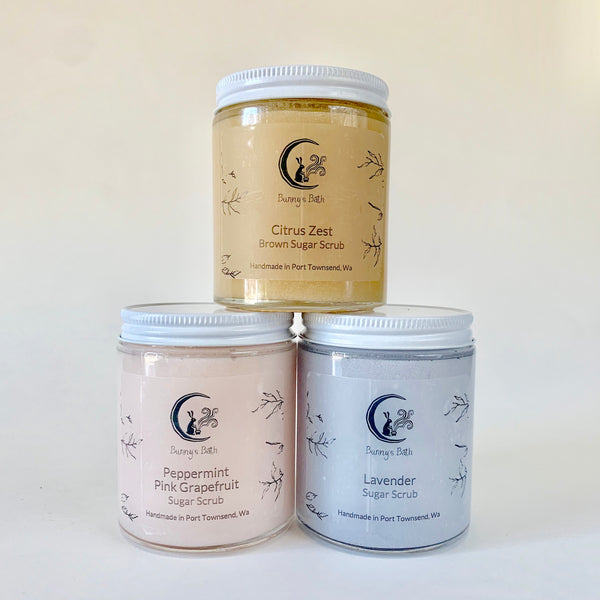 Sugar Scrubs
$ 9.00
---
You'll love how soft and smooth your skin will feels when you use these gently...
Cream Deodorant
$ 10.50
---
This aluminum-free natural cream deodorant is gentle and non-greasy. It uses zinc oxide, silver citrate,...
data-name="Talc-Free Body Powder" data-url="https://bunnysbath.com/products/talc-free-baby-powder" data-image-url="//bunnysbath.com/cdn/shop/products/image_fb9c4b0f-5b19-41d6-8fca-8db66493ee88_large.jpg%3Fv=1630102930" data-description="<p><meta charset="utf-8"><em></em>This silky powder is perfect for soothing delicate skin and is made without talc or fragrance. Allantoin helps sooth skin irritation and silk powder gives it a luxurious feel. </p> <p>This powder is great for little kiddos in diapers. </p> <p>3.25 oz net wt <br><br><strong>Ingredients</strong><br>Arrowroot Powder, Corn Starch (modified), Kaolin Clay, Tapioca Starch, Allantoin, and Silk Powder</p>">