After Shave Lotion
$ 17.50
---
This soothing lotion is perfect to use after shaving.
It's loaded with anti-inflammatory ingredients like Aloe, Calendula, Borage Oil, Licorice Root Extract, and Tamanu to calm any skin irritations.
It also contains skin soothing Allantoin, which is the main ingredient in Comfrey Root Extract. And it is rich with nourishing and revitalizing oils like Green Tea Seed, Avocado, and Sesame Oils. 
Packaged in an 8oz glass bottle.

Ingredients
Distilled Water; Aloe Vera Gel; Emulsifying Wax NF; Calendula Infused Organic Olive Oil; Green Tea Seed (Camellia) Oil; Avocado Oil; Glycerin; Organic Licorice Root Extract; Sesame Oil; Borage Oil; Macadamia Nut Oil; Tamanu (Foraha) Oil; Allantoin; Lactic Acid; Vitamin E (T-50); Citric Acid; Potassium Sorbate
---
Related Items
Skin Repair for Working Hands
$ 12.00
---
Made for people who work their hands hard.  This soothing salve is rich with oils...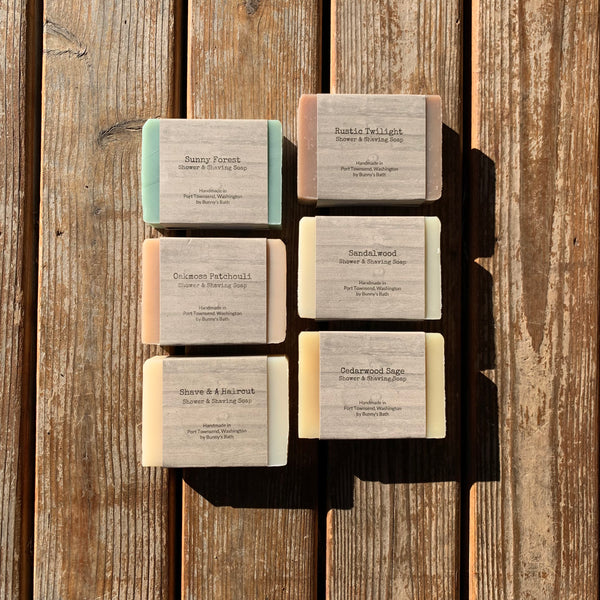 Shower & Shaving Soap
$ 8.50
---
NEW SCENT - Rustic Twilight Our shower and shaving soap bars are some of our...
Beard Balm
$ 10.50
---
Use this pure and natural balm as a leave-in conditioner and styling aid to keep...
data-name="After Shave Lotion" data-url="https://bunnysbath.com/products/after-shave-lotion" data-image-url="//bunnysbath.com/cdn/shop/products/image_7211e9a9-7118-463e-afef-ade5ac03cf80_large.jpg%3Fv=1559081773" data-description="<p>This soothing lotion is perfect to use after shaving.</p> <p>It's loaded with anti-inflammatory ingredients like Aloe, Calendula, Borage Oil, Licorice Root Extract, and Tamanu to calm any skin irritations.</p> <p>It also contains skin soothing Allantoin, which is the main ingredient in Comfrey Root Extract. And it is rich with nourishing and revitalizing oils like Green Tea Seed, Avocado, and Sesame Oils. </p> <p>Packaged in an 8oz glass bottle.</p> <p><br><strong>Ingredients</strong><br>Distilled Water; Aloe Vera Gel; Emulsifying Wax NF; Calendula Infused Organic Olive Oil; Green Tea Seed (Camellia) Oil; Avocado Oil; Glycerin; Organic Licorice Root Extract; Sesame Oil; Borage Oil; Macadamia Nut Oil; Tamanu (Foraha) Oil; Allantoin; Lactic Acid; Vitamin E (T-50); Citric Acid; Potassium Sorbate</p>">