You're A Stinker Bathroom Spray
$ 9.00
---
This blend of citrus and earthy essential oils will make your bathroom smell more than a little pleasant. 
Shake well and spray anytime, anywhere. 
4oz fl oz metal bottle with trigger sprayer. This bottle is great to use over and over. 
Ingredients : Distilled Water; Glycerine; Essential Oil Blend
---
Related Items
Skin Repair for Working Hands
$ 12.00
---
Made for people who work their hands hard.  This soothing salve is rich with oils...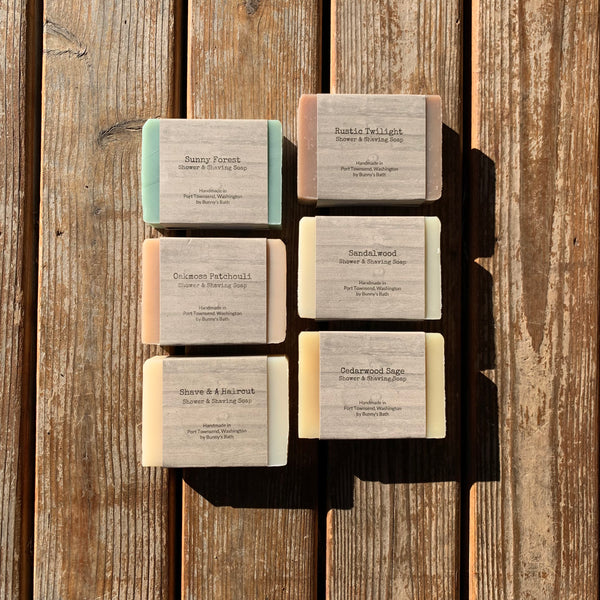 Shower & Shaving Soap
$ 8.50
---
NEW SCENT - Rustic Twilight Our shower and shaving soap bars are some of our...
Beard Balm
$ 10.50
---
Use this pure and natural balm as a leave-in conditioner and styling aid to keep...
data-name="You're A Stinker Bathroom Spray" data-url="https://bunnysbath.com/products/youre-a-stinker-bathroom-spray" data-image-url="//bunnysbath.com/cdn/shop/products/image_17afeef4-251e-47b9-ad03-e577f20ac24f_large.jpg%3Fv=1575915604" data-description="<p>This blend of citrus and earthy essential oils will make your bathroom smell more than a little pleasant. </p> <p>Shake well and spray anytime, anywhere. </p> <p>4oz fl oz metal bottle with trigger sprayer. This bottle is great to use over and over. </p> <p>Ingredients : Distilled Water; Glycerine; Essential Oil Blend</p>">