Foaming Hand Cleaner
$ 5.75
---
* Please note, this does not contain alcohol. We cannot guarantee this will work against the SARS-CoV-2.*
This foaming hand cleaner uses essential oils instead of chemicals to fight germs. Plus it has been enhanced with shea butter and does not contain any alcohol so it is never drying.
The essential oil blend includes Clove Bud, Lemon, Cinnamon Bark, Eucalyptus, & Rosemary, and it is based on the based on the legend of four grave robbers in France who used essential oils to protect themselves from the black plague. As legend has it, when they were captured they offered their secret recipe in exchange for a lighter sentence.
To use it just pump the foam once or twice onto your hands and then rub them together to distribute.
Ingredients
Distilled Water; Saponified Oils of Coconut, Organic Sunflower, and Castor; Glycerin; PEG-50 Shea Butter; Essential Oils of Clove Bud, Lemon, Cinnamon Bark, Eucalyptus, & Rosemary; Sodium Borate (natural source emulsifier, buffer, and water softener)
---
Related Items
across the horizon | conversation bar
$ 5.25
---
Minty and crisp. A blend of peppermint, spearmint, tea tree, lemon, rosemary, eucalyptus essential oils...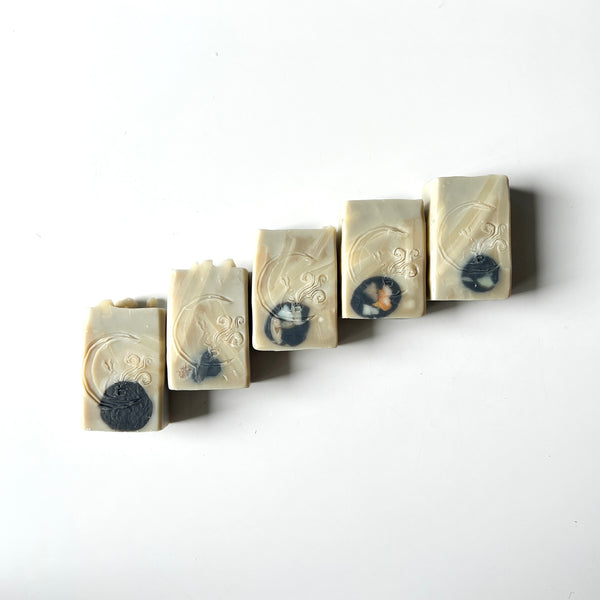 ancient vision | conversation bar
Sold Out
---
Grounding and enlivening. A blend of 4 types of cedar wood essential oils, along with...
Beard Balm
$ 10.50
---
Use this pure and natural balm as a leave-in conditioner and styling aid to keep...
data-name="Foaming Hand Cleaner" data-url="https://bunnysbath.com/products/foaming-hand-cleaner-with-essential-oils-shea-butter" data-image-url="//bunnysbath.com/cdn/shop/products/image_3c43154e-f7ca-4386-a38a-b525e1567f31_large.jpg%3Fv=1565146232" data-description="<p><strong>* Please note, this does not contain alcohol. We cannot guarantee this will work against the SARS-CoV-2.*</strong></p> <p><strong></strong>This foaming hand cleaner uses essential oils instead of chemicals to fight germs. Plus it has been enhanced with shea butter and does not contain any alcohol so it is never drying.</p> <p>The essential oil blend includes Clove Bud, Lemon, Cinnamon Bark, Eucalyptus, &amp; Rosemary, and it is based on the based on the legend of four grave robbers in France who used essential oils to protect themselves from the black plague. As legend has it, when they were captured they offered their secret recipe in exchange for a lighter sentence.</p> <p>To use it just pump the foam once or twice onto your hands and then rub them together to distribute.</p> <p><strong>Ingredients</strong></p> <p>Distilled Water; Saponified Oils of Coconut, Organic Sunflower, and Castor; Glycerin; PEG-50 Shea Butter; Essential Oils of Clove Bud, Lemon, Cinnamon Bark, Eucalyptus, &amp; Rosemary; Sodium Borate (natural source emulsifier, buffer, and water softener)</p>">