Shea Butter Lotion in a Jar
$ 20.00
---
This lotion is sure to moisturize the driest of skin without being greasy. 
It is made with 20% organic, unrefined shea butter.
Shea butter is a skin superfood that comes from the seeds of the fruit of the Shea (Karite) tree and that is naturally rich in vitamins A, E and F and provides the skin with essential fatty acids and the nutrients necessary for collagen production.
And it's available in the these great fragrances:
Basil Patchouli*
Fragrance Free 
Fresh Citrus* 
Juniper Bergamot*
Lavender* 
Lavender Sage*
Lavender Vanilla (essential oil & fragrance oil blend) 
Lemongrass Tangerine* (yummy tangerine scent with a hint of lemongrass) 
Palmarosa & Grapefruit* (delicious uplifting scent) 

Rose Geranium* 
Walk in the Woods* - NEW SCENT
Fragrances with an * are scented 100% with Essential Oil
8.5oz net wt

Ingredients
Distilled Water; Organic Shea Butter; Emulsifying Wax NF; Glycerin; Shea Oil; Lactic Acid; Essential Oil and/or Fragrance Oil; Vitamin E (T-50); Citric Acid; Potassium Sorbate
---
Related Items
Moisture Soap with Shea Butter
$ 7.60
---
These luxurious soaps contain 10% skin-softening shea butter plus olive, avocado, and jojoba oils that...
Foaming Liquid Hand Soap
$ 8.60
---
This all-natural liquid hand soap is specially packaged with a pump that dispenses rich foaming...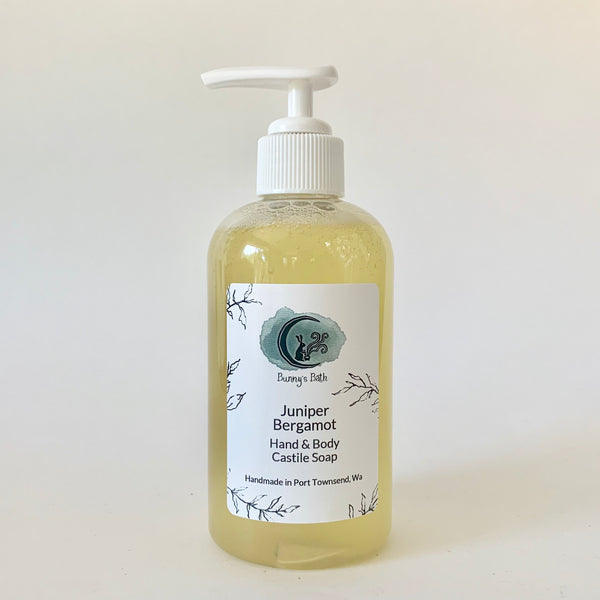 Castile Hand & Body Soap
$ 11.00
---
These gentle, rich lathering soaps are pure saponified oils of olive, coconut, and castor. This soap...
data-name="Shea Butter Lotion in a Jar" data-url="https://bunnysbath.com/products/shea-butter-lotion-in-a-jar" data-image-url="//bunnysbath.com/cdn/shop/products/image_4d2bb809-2a89-405a-b278-d9721ea23712_large.jpg%3Fv=1567365493" data-description="<meta charset="utf-8"><meta charset="utf-8"> <p><span>This lotion is sure to moisturize the driest of skin without being greasy. </span></p> <p><span>It is made with 20% organic, unrefined shea butter.</span></p> <p><span>Shea butter is a skin superfood that comes from the seeds of the fruit of the Shea (Karite) tree and that is naturally rich in vitamins A, E and F and provides the skin with essential fatty acids and the nutrients necessary for collagen production.</span></p> <p>And it's available in the these great fragrances:</p> <ul> <li>Basil Patchouli*</li> <li>Fragrance Free </li> <li>Fresh Citrus* </li> <li>Juniper Bergamot*</li> <li>Lavender* </li> <li>Lavender Sage*</li> <li>Lavender Vanilla (essential oil &amp; fragrance oil blend) </li> <li>Lemongrass Tangerine* (yummy tangerine scent with a hint of lemongrass) </li> <li>Palmarosa &amp; Grapefruit* (delicious uplifting scent) <br> </li> <li>Rose Geranium* </li> <li>Walk in the Woods* - NEW SCENT</li> </ul> <p>Fragrances with an * are scented 100% with Essential Oil</p> <p>8.5oz net wt<br><br><strong>Ingredients</strong><br>Distilled Water; Organic Shea Butter; Emulsifying Wax NF; Glycerin; Shea Oil; Lactic Acid; Essential Oil and/or Fragrance Oil; Vitamin E (T-50); Citric Acid; Potassium Sorbate</p>">