Soothing Herbal Oil
$ 21.00
---
Sunshine in a bottle.
Organic calendula, chamomile, borage, lavender and yarrow infused in organic jojoba oil, making this dreamy and moisturizing oil ultra-nourishing. 
This oil is incredibly special - the herbs used were grown in my organic garden and carefully tended over the summer while my daughter helped water the plants.
Jojoba Oil is a liquid wax ester and is closest to our skin's natural sebum. It is an excellent oil for the skin - emollient, regenerative, restructuring, and toning. It provides a light film that maintains moisture yet allows the skin to breathe. 
We have a very limited quantity available, once sold out we won't have more until next year.
Pour about a teaspoon into your hands at a time and lovingly massage in.
Ingredients - Organic Jojoba Oil infused with Organic Calendula, Chamomile, Borage, and Yarrow
100 ml in a recyclable glass bottle
---
Related Items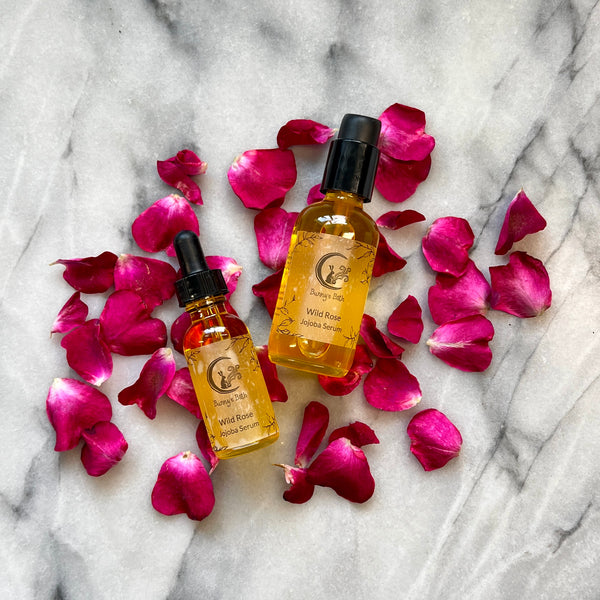 Wild Rose Serum
$ 12.50
---
Lively, intoxicating and nourishing.  Organic jojoba oil infused with wild harvested nootka rose gathered from...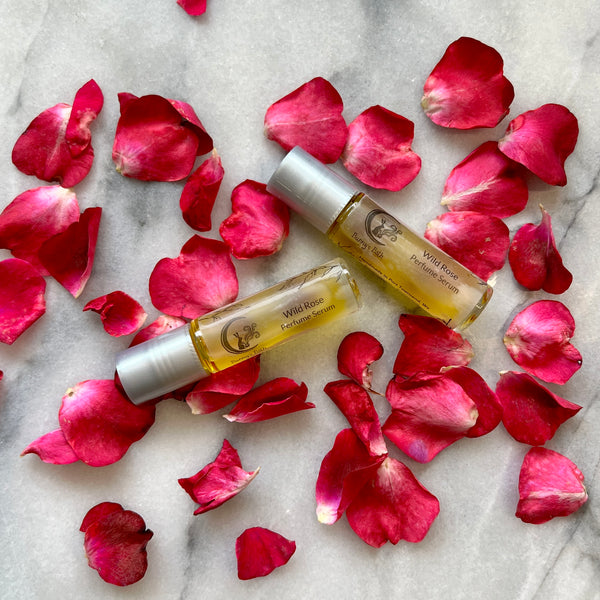 Wild Rose Perfume Serum
Sold Out
---
Get lost in this intoxicating and provocative wild rose infused perfume serum.  A lovingly crafted...
data-name="Soothing Herbal Oil" data-url="https://bunnysbath.com/products/soothing-herbal-oil" data-image-url="//bunnysbath.com/cdn/shop/products/image_c0886f91-76c2-400c-97f8-829edb8d0759_large.jpg%3Fv=1603249827" data-description="<meta charset="utf-8"> <p><em></em>Sunshine in a bottle.</p> <p>Organic calendula, chamomile, borage, lavender and yarrow infused in organic jojoba oil, making this dreamy and moisturizing oil ultra-nourishing. </p> <meta charset="utf-8"> <p><span data-mce-fragment="1">This oil is incredibly special - the herbs used were grown in my organic garden and carefully tended over the summer while my daughter helped water the plants.</span></p> <p>Jojoba Oil is a liquid wax ester and is closest to our skin's natural sebum. It is an excellent oil for the skin - emollient, regenerative, restructuring, and toning. It provides a light film that maintains moisture yet allows the skin to breathe. </p> <p>We have a very limited quantity available, once sold out we won't have more until next year.</p> <p>Pour about a teaspoon into your hands at a time and lovingly massage in.</p> <p><strong>Ingredients</strong> - Organic Jojoba Oil infused with Organic Calendula, Chamomile, Borage, and Yarrow</p> <p>100 ml in a recyclable glass bottle</p>">