Moisture Soap with Shea Butter
$ 8.00
---
These luxurious soaps contain 10% skin-softening shea butter plus olive, avocado, and jojoba oils that add wonderful skin care properties. The soaps have been 'super-fatted' with castor oil for extra emollience, and they contain silk fibers that adds a smooth silky feel to the soap. 
Almond & Nutmeg* - Almond with ground nutmeg 
Basil Patchouli* Sweet basil and vetiver oils soften the patchouli for a refreshing and earthy scent - colored with sea clay
Cedar, Lemongrass, & Sage* - Woodsy, lemony, and refreshing
Fragrance Free
Fresh Citrus* - Bright citrus - colored with lemon peel
Juicy Pear
Juniper Bergamot* - Mild and earthy - colored with indigo powder
Lavender Calendula* - Gentle and soothing - with calendula flowers
Lavender Tangerine* - Relaxing and citrus
Lemongrass Sage* - Bright and grounding
Northwest Woods - Woods, ocean, and PNW - colored with mica and french green clay
Orange Ginger* 
Patchouli Sunrise* - Patchouli, citrus, bright and grounding - colored with rhassoul clay and activated charcoal - NEW SCENT
Peppermint & Pink Grapefruit* - Colored with madder root  
Spearmint & Eucalyptus* - Colored with green mica
Fragrances with an * are scented 100% with natural Essential Oils 
Each bar is approximately 5 oz net wt
Ingredients
Saponified Oils of Olive, Coconut, Avocado, Shea Butter, and Jojoba; Castor Oil; Silk Fibers; Essential Oil and/or Fragrance Oil; Mica (Spearmint & Eucalyptus); Madder Root Powder (Peppermint Pink Grapefruit); Indigo Powder (Juniper Bergamot); Sea Clay (Basil Patchouli); Activated Charcoal & Rhassoul Clay (Patchouli Sunrise); Mica & French Green Clay (Northwest Woods)
---
Related Items
Foaming Liquid Hand Soap
$ 8.25
---
This all-natural liquid hand soap is specially packaged with a pump that dispenses rich foaming...
Lip Balm
$ 4.00
---
2 new flavors! Cinnamon and Mandarin Orange Delicious flavors along with emollient and smooth glide...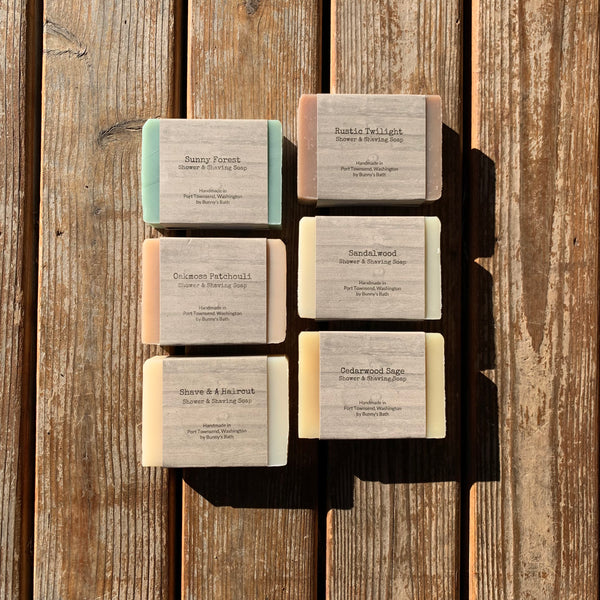 Shower & Shaving Soap
$ 8.50
---
NEW SCENT - Rustic Twilight Our shower and shaving soap bars are some of our...
data-name="Moisture Soap with Shea Butter" data-url="https://bunnysbath.com/products/moisture-soap-with-shea-butter" data-image-url="//bunnysbath.com/cdn/shop/products/image_d5344227-7d79-434f-ba24-a6cf213426c4_large.jpg%3Fv=1625163239" data-description="<p>These luxurious soaps contain 10% skin-softening shea butter plus olive, avocado, and jojoba oils that add wonderful skin care properties. The soaps have been 'super-fatted' with castor oil for extra emollience, and they contain silk fibers that adds a smooth silky feel to the soap. </p> <ul> <li>Almond &amp; Nutmeg* - Almond with ground nutmeg </li> <li>Basil Patchouli* Sweet basil and vetiver oils soften the patchouli for a refreshing and earthy scent - colored with sea clay</li> <li>Cedar, Lemongrass, &amp; Sage* - Woodsy, lemony, and refreshing</li> <li>Fragrance Free</li> <li>Fresh Citrus* - Bright citrus - colored with lemon peel</li> <li>Juicy Pear</li> <li>Juniper Bergamot* - Mild and earthy - colored with indigo powder</li> <li>Lavender Calendula* - Gentle and soothing - with calendula flowers</li> <li>Lavender Tangerine* - Relaxing and citrus</li> <li>Lemongrass Sage* - Bright and grounding</li> <li>Northwest Woods - Woods, ocean, and PNW - colored with mica and french green clay</li> <li>Orange Ginger* </li> <li>Patchouli Sunrise* - Patchouli, citrus, bright and grounding - colored with rhassoul clay and activated charcoal - NEW SCENT</li> <li>Peppermint &amp; Pink Grapefruit* - Colored with madder root  </li> <li>Spearmint &amp; Eucalyptus* - Colored with green mica</li> </ul> <p><span>Fragrances with an * are scented 100% with natural Essential Oils </span></p> <p><span>Each bar is approximately 5 oz net wt</span></p> <h3><span>Ingredients</span></h3> <p><span>Saponified Oils of Olive, Coconut, Avocado, Shea Butter, and Jojoba; Castor Oil; Silk Fibers; Essential Oil and/or Fragrance Oil; Mica (Spearmint &amp; Eucalyptus); Madder Root Powder (Peppermint Pink Grapefruit); Indigo Powder (Juniper Bergamot); Sea Clay (Basil Patchouli); Activated Charcoal &amp; Rhassoul Clay (Patchouli Sunrise); Mica &amp; French Green Clay (Northwest Woods)</span></p>">