Shampoo & Body Bar
$ 9.00
---
Enjoy the refreshing fragrance of this soap that has been specially formulated to clean and add shine to your hair.
We add Pro-Vitamin B5, which is a natural constituent of healthy hair, and lower the pH with Citric Acid to make it more hair friendly.
This gentle and beautifully scented soap can also be used as a great bath and body bar.
Our Shampoo & Body bar is a great option for travel!
5 oz bar

Ingredients
Saponified Oils of Olive, Coconut, Avocado, Sweet Almond, Castor, and Jojoba; Essential Oils; Citric Acid; Pro-Vitamin B5; Natural Mineral Color (Rosemary Mint)
---
Related Items
across the horizon | conversation bar
$ 5.25
---
Minty and crisp. A blend of peppermint, spearmint, tea tree, lemon, rosemary, eucalyptus essential oils...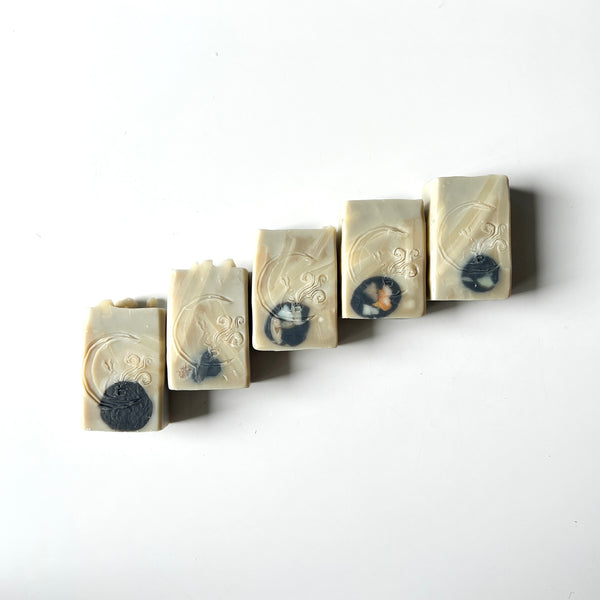 ancient vision | conversation bar
Sold Out
---
Grounding and enlivening. A blend of 4 types of cedar wood essential oils, along with...
bright tomorrow | conversation bar
Sold Out
---
Fresh, citrus, and bright blend of orange, rosemary, lavender and citrus essential oils. Colored with...
data-name="Shampoo & Body Bar" data-url="https://bunnysbath.com/products/shampoo-bar" data-image-url="//bunnysbath.com/cdn/shop/products/image_07b13ccc-a414-41e7-a2b3-97335dc60c90_large.jpg%3Fv=1590958964" data-description="<p>Enjoy the refreshing fragrance of this soap that has been specially formulated to clean and add shine to your hair.</p> <p>We add Pro-Vitamin B5, which is a natural constituent of healthy hair, and lower the pH with Citric Acid to make it more hair friendly.</p> <p>This gentle and beautifully scented soap can also be used as a great bath and body bar.</p> <p>Our Shampoo &amp; Body bar is a great option for travel!</p> <p>5 oz bar<br><br><strong>Ingredients</strong><br>Saponified Oils of Olive, Coconut, Avocado, Sweet Almond, Castor, and Jojoba; Essential Oils; Citric Acid; Pro-Vitamin B5; Natural Mineral Color (Rosemary Mint)</p>">