Body Mist
$ 8.25
---
A great way to add a little scent to your body or space.
Now in a lightweight convenient 4oz aluminum bottle. It's the perfect size to throw in any bag. 
Glycerin and aloe added to moisturize and refresh your skin.
Available in:
Basil Patchouli* 
Bergamot* 
Cool Down* - aromatherapy blend of geranium, peppermint, lavender, lemon, & clary sage
Fresh Citrus* 
Juniper Bergamot* 
Lavender* 
Lavender Sage* 
Lavender Vanilla 
Palmarosa Grapefruit* 
Rose Geranium*
Uplifting* - sweet basil, mint, citrus
Walk in the Woods* - Fir, pine, juniper, & frankincense
Fragrances with an * are scented 100% with Essential Oils
Ingredients
Distilled Water; Aloe Vera Gel; Glycerin; Essential Oil and/or Fragrance Oil
---
Related Items
Lip Balm
$ 4.00
---
2 new flavors! Cinnamon and Mandarin Orange Delicious flavors along with emollient and smooth glide...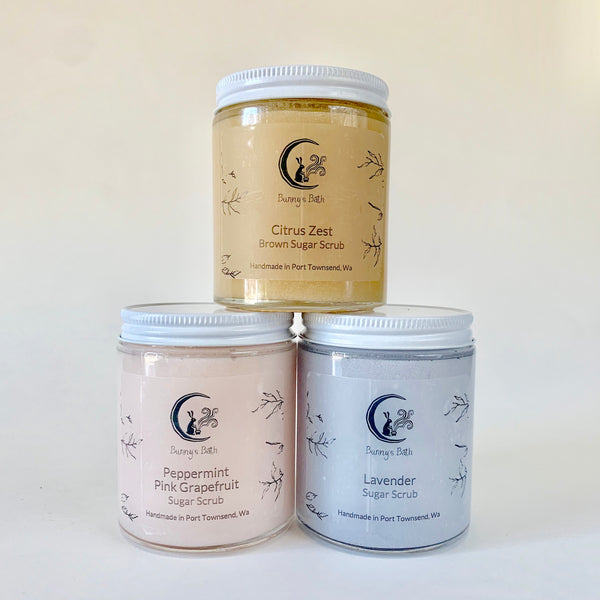 Sugar Scrubs
$ 9.00
---
You'll love how soft and smooth your skin will feels when you use these gently...
Cream Deodorant
$ 10.50
---
This aluminum-free natural cream deodorant is gentle and non-greasy. It uses zinc oxide, silver citrate,...
data-name="Body Mist" data-url="https://bunnysbath.com/products/body-mist" data-image-url="//bunnysbath.com/cdn/shop/products/image_76368daf-dd9d-4e12-ada7-4b64fd2e0664_large.jpg%3Fv=1565145695" data-description="<p><em></em>A great way to add a little scent to your body or space.</p> <p>Now in a lightweight convenient 4oz aluminum bottle. It's the perfect size to throw in any bag. </p> <p>Glycerin and aloe added to moisturize and refresh your skin.</p> <p>Available in:</p> <ul> <li>Basil Patchouli* </li> <li>Bergamot* </li> <li>Cool Down* - aromatherapy blend of geranium, peppermint, lavender, lemon, &amp; clary sage</li> <li>Fresh Citrus* </li> <li>Juniper Bergamot* </li> <li>Lavender* </li> <li>Lavender Sage* </li> <li>Lavender Vanilla </li> <li>Palmarosa Grapefruit* </li> <li>Rose Geranium*</li> <li>Uplifting* - sweet basil, mint, citrus</li> <li>Walk in the Woods* - Fir, pine, juniper, &amp; frankincense</li> </ul> Fragrances with an * are scented 100% with Essential Oils <br><br><strong>Ingredients</strong><br>Distilled Water; Aloe Vera Gel; Glycerin; Essential Oil and/or Fragrance Oil">