Castile Soap
$ 7.00
---
These mild soaps are made primarily with olive oil and just a hint of coconut to improve the lather. They are gentle enough to use every day, and and their rich creamy lather is never drying to your skin. For sensitive skin we especially recommend the fragrance free castile bar.
Available in :
Fragrance Free - Gentle and simple
Lavender Cedarwood - Earthy, grounding, calming - colored with brazilian purple clay
Lemon Geranium - Bright and floral
Palmarosa Grapefruit - Floral and citrus - colored with rose clay
Peppermint & Tea Tree - Invigorating blend with poppy seeds 
Rose Geranium - Floral and bright - colored with rose clay
Walk in the Woods - Earthy, bright, forest - colored with indigo and sea clay
All soaps are scented 100% with Essential Oils, except fragrance free 
Approximately 5 oz net wt
Ingredients
Saponified Oils of Olive and Coconut; Essential Oil (except Fragrance Free); Castor Oil (Fragrance Free); Rose Clay (Palmarosa Grapefruit); Sea Clay & Indigo Powder (Walk in the Woods)
---
Related Items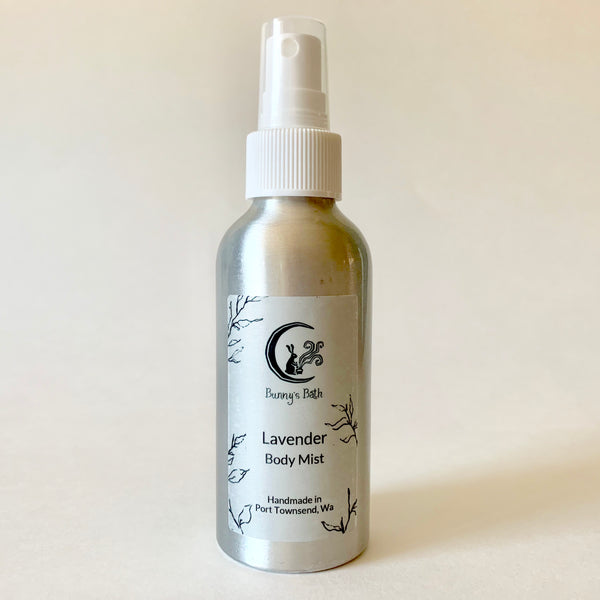 Body Mist
$ 8.25
---
A great way to add a little scent to your body or space. Now in...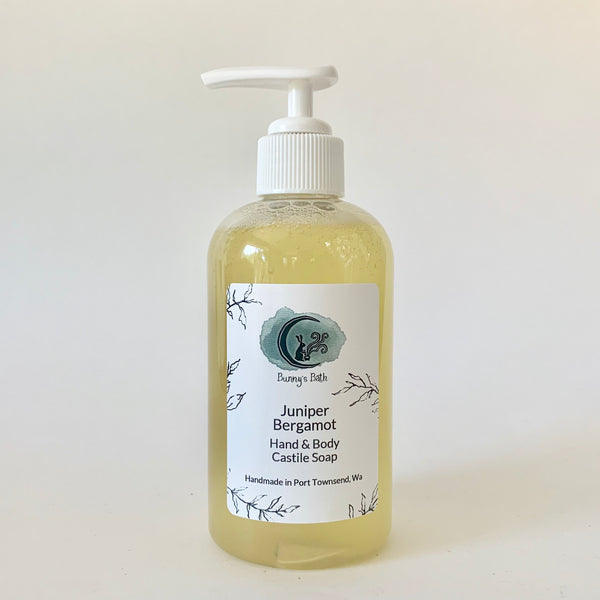 Castile Hand & Body Soap
$ 11.00
---
These gentle, rich lathering soaps are pure saponified oils of olive, coconut, and castor. This soap...
Foaming Liquid Hand Soap
$ 8.60
---
This all-natural liquid hand soap is specially packaged with a pump that dispenses rich foaming...
data-name="Castile Soap" data-url="https://bunnysbath.com/products/castile-soap" data-image-url="//bunnysbath.com/cdn/shop/products/image_d27ea1a9-4314-40be-bc38-3c366aafd1bb_large.jpg%3Fv=1635274903" data-description="<p><span>These mild soaps are made primarily with olive oil and just a hint of coconut to improve the lather. They are gentle enough to use every day, and and their rich creamy lather is never drying to your skin. For sensitive skin we especially recommend the fragrance free castile bar. </span></p> <p><span>Available in :</span></p> <ul> <li>Fragrance Free - Gentle and simple</li> <li>Lavender Cedarwood - Earthy, grounding, calming - colored with brazilian purple clay</li> <li>Lemon Geranium - Bright and floral</li> <li>Palmarosa Grapefruit - Floral and citrus - colored with rose clay</li> <li>Peppermint &amp; Tea Tree - Invigorating blend with poppy seeds </li> <li>Rose Geranium - Floral and bright - colored with rose clay</li> <li>Walk in the Woods - Earthy, bright, forest - colored with indigo and sea clay</li> </ul> <div><span>All soaps are scented 100% with Essential Oils, except fragrance free </span></div> <div><span> </span></div> <div><span>Approximately 5 oz net wt</span></div> <div> <span></span><br> </div> <div></div> <div><span></span></div> <p><strong>Ingredients</strong><br><span>Saponified Oils of Olive and Coconut; Essential Oil (except Fragrance Free); Castor Oil (Fragrance Free); Rose Clay (Palmarosa Grapefruit); Sea Clay &amp; Indigo Powder (Walk in the Woods)</span></p>">