Minty Foot Cream with Tea Tree Oil
$ 11.00
---
Spearmint and peppermint essential oils stimulate circulation to rejuvenate tired feet.
The luxurious blend of shea butter, mango butter, and avocado oil pamper dry skin. Tea tree essential oil adds anti-fungal properties.
This cream is sure to be just what your tired, sore feet need. 
We now package this cream in a glass, food-safe, dishwasher-safe jar so you can reuse it over and over again. If you're local to Port Townsend, ask about returning the jar with your next order for us to reuse.

Ingredients
Distilled Water; Free Trade Shea Butter; Emulsifying Wax NF; Macadamia Nut Oil; Avocado Oil; Stearic Acid; Mango Butter; Glycerin; Peppermint, Spearmint, & Tea Tree Essential Oils; Lactic Acid; Vitamin E (T-50); Citric Acid; Potassium Sorbate
---
Related Items
Lip Balm
$ 4.25
---
2 new flavors! Cinnamon and Mandarin Orange Delicious flavors along with emollient and smooth glide...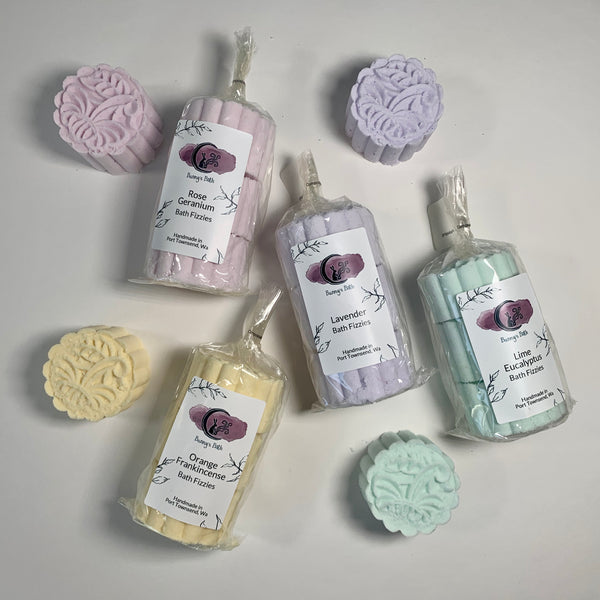 Bath Fizzies
$ 10.00
---
Drop one or two of these beauties into the tub and prepare to enjoy a...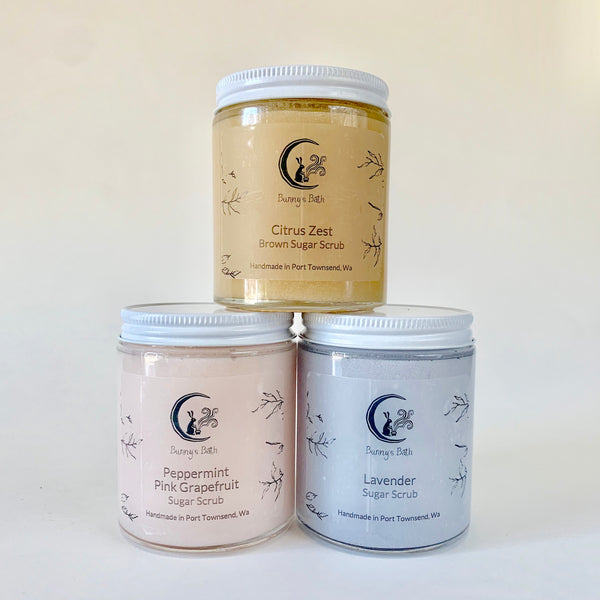 Sugar Scrubs
$ 9.00
---
You'll love how soft and smooth your skin will feels when you use these gently...
data-name="Minty Foot Cream with Tea Tree Oil" data-url="https://bunnysbath.com/products/minty-foot-cream-with-tea-tree-oil" data-image-url="//bunnysbath.com/cdn/shop/products/image_cc3623b8-7944-4463-90be-17038a3d5216_large.jpg%3Fv=1568674741" data-description="<p>Spearmint and peppermint essential oils stimulate circulation to rejuvenate tired feet.</p> <p>The luxurious blend of shea butter, mango butter, and avocado oil pamper dry skin. Tea tree essential oil adds anti-fungal properties.</p> <p>This cream is sure to be just what your tired, sore feet need. </p> <p>We now package this cream in a glass, food-safe, dishwasher-safe jar so you can reuse it over and over again. If you're local to Port Townsend, ask about returning the jar with your next order for us to reuse.</p> <p><br><strong>Ingredients</strong><br>Distilled Water; Free Trade Shea Butter; Emulsifying Wax NF; Macadamia Nut Oil; Avocado Oil; Stearic Acid; Mango Butter; Glycerin; Peppermint, Spearmint, &amp; Tea Tree Essential Oils; Lactic Acid; Vitamin E (T-50); Citric Acid; Potassium Sorbate</p>">