Diaper Balm
$ 10.25
---
This balm works wonders for babies and kiddos. It works wonders on sore bums, chapped chins, and soothing magic to ouchies. THIS is the balm to use.
The balm has been specially formulated with oils chosen for their skin-soothing properties.
The main ingredient is Olive Oil that has been infused with Calendula Flowers, which have long been noted for their skin calming properties. Borage Oil, Tamanu Oil, and Karanja Oil also add soothing properties, and Green Tea Seed (Camellia) Oil, Jojoba Oil, and Shea Butter add skin softening and moisturizing properties.
This balm is fine to use with cloth diapers. 
2 oz screw top tin.

Ingredients
Calendula Infused Olive Oil; Green Tea Seed (Camellia) Oil; Jojoba Oil; Shea Butter; Borage Oil; Beeswax; Karanja Oil; Tamanu (Foraha) Oil; Meadowfoam Seed Oil; Vitamin E (T-50)
---
Related Items
across the horizon | conversation bar
$ 5.25
---
Minty and crisp. A blend of peppermint, spearmint, tea tree, lemon, rosemary, eucalyptus essential oils...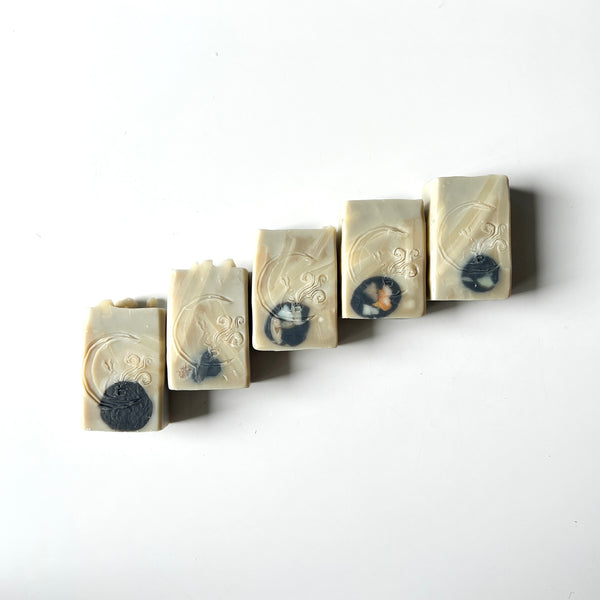 ancient vision | conversation bar
Sold Out
---
Grounding and enlivening. A blend of 4 types of cedar wood essential oils, along with...
Beard Balm
$ 10.50
---
Use this pure and natural balm as a leave-in conditioner and styling aid to keep...
data-name="Diaper Balm" data-url="https://bunnysbath.com/products/calendula-baby-diaper-balm" data-image-url="//bunnysbath.com/cdn/shop/products/image_87d26e0e-8886-42cc-9152-3dc57856f348_large.jpg%3Fv=1571847425" data-description="<p>This balm works wonders for babies and kiddos. It works wonders on sore bums, chapped chins, and soothing magic to ouchies. THIS is the balm to use.</p> <p>The balm has been specially formulated with oils chosen for their skin-soothing properties.</p> <p>The main ingredient is Olive Oil that has been infused with Calendula Flowers, which have long been noted for their skin calming properties. Borage Oil, Tamanu Oil, and Karanja Oil also add soothing properties, and Green Tea Seed (Camellia) Oil, Jojoba Oil, and Shea Butter add skin softening and moisturizing properties.</p> <p>This balm is fine to use with cloth diapers. </p> <p>2 oz screw top tin.<br><br><strong>Ingredients</strong><br>Calendula Infused Olive Oil; Green Tea Seed (Camellia) Oil; Jojoba Oil; Shea Butter; Borage Oil; Beeswax; Karanja Oil; Tamanu (Foraha) Oil; Meadowfoam Seed Oil; Vitamin E (T-50)</p>">