Calendula Baby Lotion
$ 19.00
---
This gentle, all-natural lotion is perfect for baby's delicate skin.
It contains olive oil that has been infused with calendula petals, plus aloe and allantoin, all of which add soothing skin protection properties.
Calendula has long been valued for its skin soothing properties, and soothing aloe vera gel has been used for thousands of years to treat burns and wounds.
Allantoin, which is found in comfrey root, hastens the grown of new, healthy tissue.
This lotion is also perfect for grownups who want an all-natural lotion to soothe rough, chaffed skin.

Ingredients
Distilled Water; Organic Aloe Vera Gel; Calendula Infused Organic Olive Oil; Emulsifying Wax NF; Green Tea Seed (Camellia) Oil; Organic Shea Butter; Organic Virgin Coconut Oil; Glycerin; Organic Macadamia Nut Oil; Meadowfoam Seed Oil; NeoDefendTM (preservative derived from natural ingredients and accepted by ECOCERT, contains Gluconolactone & Sodium Benzoate); Allantoin; Vitamin E (T-50); Citric Acid; Potassium Sorbate
---
Related Items
Lip Balm
$ 4.00
---
2 new flavors! Cinnamon and Mandarin Orange Delicious flavors along with emollient and smooth glide...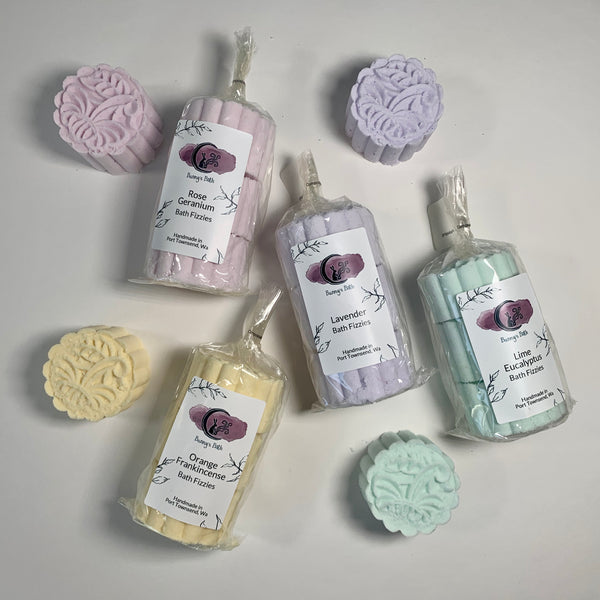 Bath Fizzies
$ 10.00
---
Drop one or two of these beauties into the tub and prepare to enjoy a...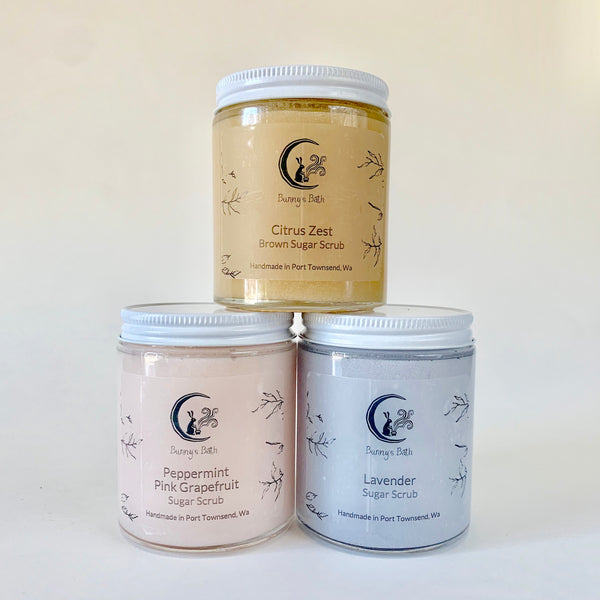 Sugar Scrubs
$ 9.00
---
You'll love how soft and smooth your skin will feels when you use these gently...
data-name="Calendula Baby Lotion" data-url="https://bunnysbath.com/products/calendula-baby-lotion" data-image-url="//bunnysbath.com/cdn/shop/products/image_2eb4766c-48bd-4395-8d14-716313b4f05e_large.jpg%3Fv=1571832070" data-description="<p>This gentle, all-natural lotion is perfect for baby's delicate skin.</p> <p>It contains olive oil that has been infused with calendula petals, plus aloe and allantoin, all of which add soothing skin protection properties.</p> <p>Calendula has long been valued for its skin soothing properties, and soothing aloe vera gel has been used for thousands of years to treat burns and wounds.</p> <p>Allantoin, which is found in comfrey root, hastens the grown of new, healthy tissue.</p> <p>This lotion is also perfect for grownups who want an all-natural lotion to soothe rough, chaffed skin. <br><br><strong>Ingredients</strong><br>Distilled Water; Organic Aloe Vera Gel; Calendula Infused Organic Olive Oil; Emulsifying Wax NF; Green Tea Seed (Camellia) Oil; Organic Shea Butter; Organic Virgin Coconut Oil; Glycerin; Organic Macadamia Nut Oil; Meadowfoam Seed Oil; NeoDefend<sup>TM</sup> (preservative derived from natural ingredients and accepted by ECOCERT, contains Gluconolactone &amp; Sodium Benzoate); Allantoin; Vitamin E (T-50); Citric Acid; Potassium Sorbate</p>">