clear headed | conversation bar
$ 5.25
---
A clear and crisp blend of dutch lavender, clary sage, juniper berry, and peppermint essential oils.
Colored with purple brazillian clay, cranberry fiber, and indigo.
Palm oil free and vegan.
2.6 ounce 

INGREDIENTS - Saponified Oils of Coconut, Olive, Avocado, Apricot Kernel, Jojoba, Shea Butter and Castor; Essential Oil Blend; and a variety of natural colorants.
This bar is part of our conversation bar collection. They are a one time run and will not be made again. 
---
Related Items
across the horizon | conversation bar
$ 5.25
---
Minty and crisp. A blend of peppermint, spearmint, tea tree, lemon, rosemary, eucalyptus essential oils...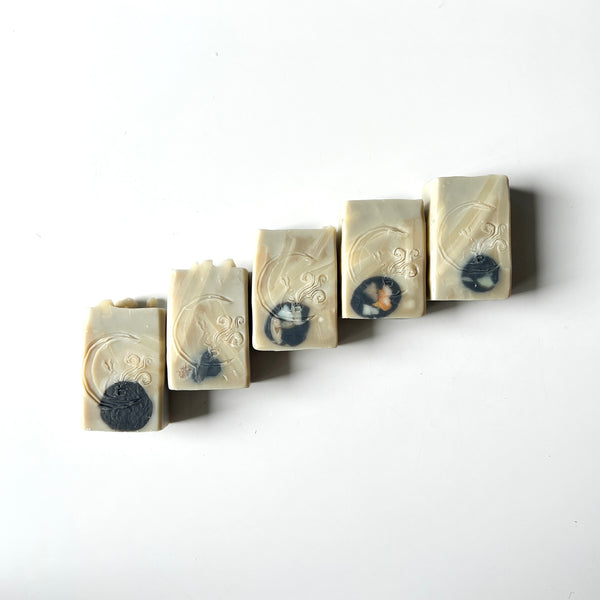 ancient vision | conversation bar
Sold Out
---
Grounding and enlivening. A blend of 4 types of cedar wood essential oils, along with...
Beard Balm
$ 10.50
---
Use this pure and natural balm as a leave-in conditioner and styling aid to keep...
data-name="clear headed | conversation bar" data-url="https://bunnysbath.com/products/clear-headed-conversation-bar" data-image-url="//bunnysbath.com/cdn/shop/products/image_fc97d039-01e0-489f-922f-dbf56c134788_large.heic%3Fv=1680214860" data-description="<p>A clear and crisp blend of dutch lavender, clary sage, juniper berry, and peppermint essential oils.</p> <p>Colored with purple brazillian clay, cranberry fiber, and indigo.</p> <p>Palm oil free and vegan.</p> <p>2.6 ounce <br></p> <p>INGREDIENTS - Saponified Oils of Coconut, Olive, Avocado, Apricot Kernel, Jojoba, Shea Butter and Castor; Essential Oil Blend; and a variety of natural colorants.</p> <p>This bar is part of our <a title="conversation bar" href="https://bunnysbath.com/collections/conversation-bars">conversation bar</a> collection. They are a one time run and will not be made again. </p>">