Cucumber Aloe Bar Soap
$ 8.50
---
Created from the puree of organic cucumbers, fresh aloe juice, and coconut oil, with no additional scent added, this bar soap is sudsy, wholesome and fresh. If you're looking for a gentle and pure bar of soap, this is it.  
We have a limited supply, be sure to get your bar before we run out!

5 oz net wt
Ingredients - Saponified oils of coconut, olive, avocado, and jojoba; cucumber; aloe vera liquid; spirulina
---
Related Items
across the horizon | conversation bar
$ 5.25
---
Minty and crisp. A blend of peppermint, spearmint, tea tree, lemon, rosemary, eucalyptus essential oils...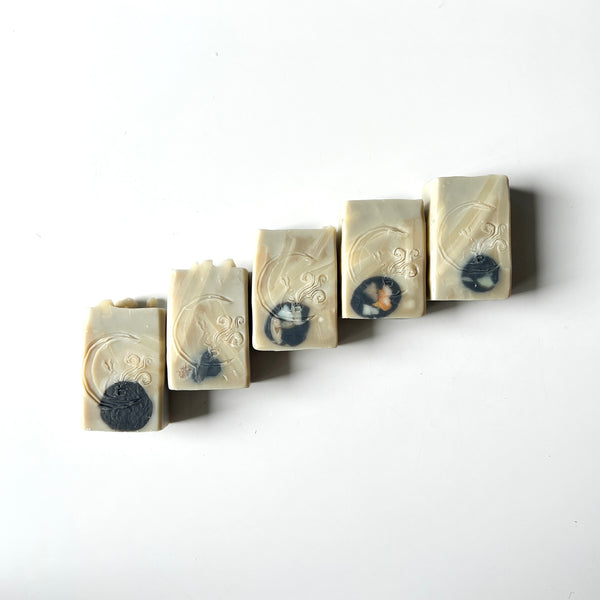 ancient vision | conversation bar
$ 5.25
---
Grounding and enlivening. A blend of 4 types of cedar wood essential oils, along with...
bright tomorrow | conversation bar
$ 5.25
---
Fresh, citrus, and bright blend of orange, rosemary, lavender and citrus essential oils. Colored with...
data-name="Cucumber Aloe Bar Soap" data-url="https://bunnysbath.com/products/cucumber-aloe-bar-soap" data-image-url="//bunnysbath.com/cdn/shop/files/481A2995-C478-4ADD-93A6-8913240B0F71_large.jpg%3Fv=1694214070" data-description="<p>Created from the puree of organic cucumbers, fresh aloe juice, and coconut oil, with no additional scent added, this bar soap is sudsy, wholesome and fresh. If you're looking for a gentle and pure bar of soap, this is it.  </p> <p>We have a limited supply, be sure to get your bar before we run out!<br></p> <p>5 oz net wt</p> <p><strong>Ingredients</strong> - <meta charset="utf-8"><span data-mce-fragment="1">Saponified oils of coconut, olive, avocado, and jojoba; cucumber; aloe vera liquid; spirulina</span></p>">