Gardener's Soap with Stone Ground Grits
$ 7.50
---
Now available in 2 scents! 
This soap makes even the most reluctant gardener want to get dirty.
The creamy lather is gentle on your skin, while stone ground grits add cleansing action that removes even the most stubborn dirt. 
Available in:
Rose Geranium - floral and bright
Rosemary Mint - minty and earthy
Approximately 5oz net wt.
Ingredients
Saponified Oils of Olive and Coconut; Stone Ground Grits; Essential Oils
---
Related Items
across the horizon | conversation bar
$ 5.25
---
Minty and crisp. A blend of peppermint, spearmint, tea tree, lemon, rosemary, eucalyptus essential oils...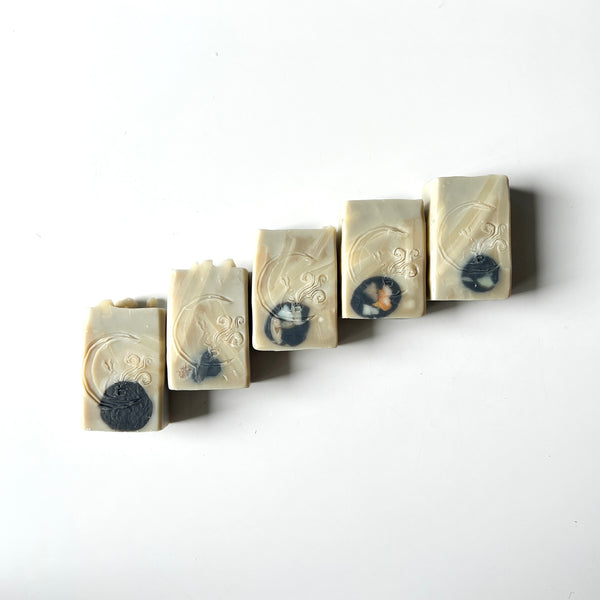 ancient vision | conversation bar
Sold Out
---
Grounding and enlivening. A blend of 4 types of cedar wood essential oils, along with...
Beard Balm
$ 10.50
---
Use this pure and natural balm as a leave-in conditioner and styling aid to keep...
data-name="Gardener's Soap with Stone Ground Grits" data-url="https://bunnysbath.com/products/gardeners-soap-bar-with-stone-ground-grits" data-image-url="//bunnysbath.com/cdn/shop/products/image_cd2ca63b-137e-4bce-912b-32868bc64cd7_large.jpg%3Fv=1583010903" data-description="<p>Now available in 2 scents! </p> <p>This soap makes even the most reluctant gardener want to get dirty.</p> <p>The creamy lather is gentle on your skin, while stone ground grits add cleansing action that removes even the most stubborn dirt. </p> <p>Available in:</p> <ul> <li>Rose Geranium - floral and bright</li> <li>Rosemary Mint - minty and earthy</li> </ul> <p>Approximately 5oz net wt.</p> <p><strong>Ingredients</strong></p> <p>Saponified Oils of Olive and Coconut; Stone Ground Grits; Essential Oils</p>">