Gentle Baby Castile Soap
$ 11.00
---
This mild soap is made primarily with olive oil, and it's gentle and perfect for baby's delicate skin. 
Available in Fragrance Free or Lightly Scented Lavender
8 fl oz glass pump bottle 

Ingredients
Distilled Water; Saponified Oils of Olive, Coconut, and Castor; Glycerin; Natural Source Sodium Borate; Lavender Essential Oil (except Fragrance Free)
---
Related Items
across the horizon | conversation bar
$ 5.25
---
Minty and crisp. A blend of peppermint, spearmint, tea tree, lemon, rosemary, eucalyptus essential oils...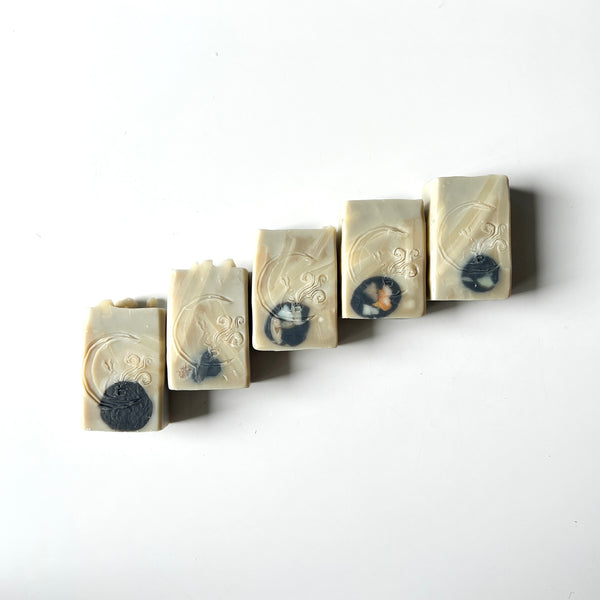 ancient vision | conversation bar
Sold Out
---
Grounding and enlivening. A blend of 4 types of cedar wood essential oils, along with...
Beard Balm
$ 10.50
---
Use this pure and natural balm as a leave-in conditioner and styling aid to keep...
data-name="Gentle Baby Castile Soap" data-url="https://bunnysbath.com/products/gentle-liquid-baby-soap" data-image-url="//bunnysbath.com/cdn/shop/products/image_115f9529-7c7d-4c1b-bbc3-eb76396f8229_large.jpg%3Fv=1571847577" data-description="<p>This mild soap is made primarily with olive oil, and it's gentle and perfect for baby's delicate skin. </p> <p>Available in Fragrance Free or Lightly Scented Lavender</p> <p>8 fl oz glass pump bottle <br><br><strong>Ingredients</strong><br>Distilled Water; Saponified Oils of Olive, Coconut, and Castor; Glycerin; Natural Source Sodium Borate; Lavender Essential Oil (except Fragrance Free)</p>">