Lip Conditioner
$ 7.50
---
This balm instantly hydrates your lips for your best pout now, and helps to soften and regenerate tissue over time so you'll see results even when you're not wearing it.

A host of rich, nutrient-dense ingredients, including aloe butter, jojoba oil, and vitamin E, penetrate the thin top layer of your lips to moisturize and rejuvenate deep tissue.

Packaged in a .25 ounce paper push up tube.

Ingredients: Aloe Butter; Candelilla Wax; Jojoba Oil; Organic Extra Virgin Olive Oil; Organic Castor Oil; Manketti Seed Oil; Vanilla Absolute; Vitamin E (T-50)
---
Related Items
across the horizon | conversation bar
$ 5.25
---
Minty and crisp. A blend of peppermint, spearmint, tea tree, lemon, rosemary, eucalyptus essential oils...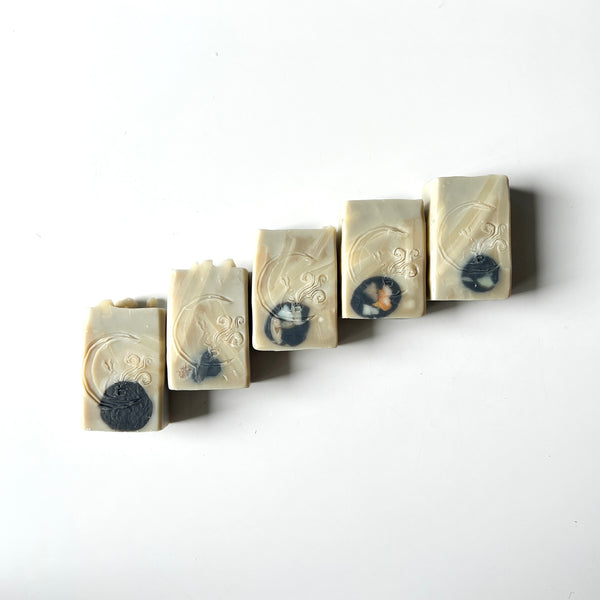 ancient vision | conversation bar
Sold Out
---
Grounding and enlivening. A blend of 4 types of cedar wood essential oils, along with...
Beard Balm
$ 10.50
---
Use this pure and natural balm as a leave-in conditioner and styling aid to keep...
data-name="Lip Conditioner" data-url="https://bunnysbath.com/products/humxn-lip-conditioner" data-image-url="//bunnysbath.com/cdn/shop/products/image_9b1fc327-11aa-4580-abbc-e4ae745b5361_large.jpg%3Fv=1624854996" data-description="<p><strong><span style="font-weight: 400;">This balm instantly hydrates your lips for your best pout now, and helps to soften and regenerate tissue over time so you'll see results even when you're not wearing it.</span></strong><br></p> <p><strong><span style="font-weight: 400;">A host of rich, nutrient-dense ingredients, including aloe butter, jojoba oil, and vitamin E, penetrate the thin top layer of your lips to moisturize and rejuvenate deep tissue</span><b>.</b></strong><br></p> <p>Packaged in a .25 ounce paper push up tube.</p> <p><br><strong>Ingredients: <span style="font-weight: 400;" data-mce-fragment="1" data-mce-style="font-weight: 400;">Aloe Butter; Candelilla Wax; Jojoba Oil; Organic Extra Virgin Olive Oil; Organic Castor Oil; Manketti Seed Oil; Vanilla Absolute; Vitamin E (T-50)</span></strong></p>">