Neem Oil Soap with Rosemary
$ 7.50
---
This creamy, rich lathering soap has been superfatted with Neem Oil, which is an amazing oil that has been valued for centuries for its therapeutic properties.
Neem Oil is moisturizing and has regenerative properties, but it doesn't have the most pleasant smell so we have added Rosemary Essential Oil to give this soap a refreshing scent.
Bar is approximately 5 oz net wt
Ingredients
Saponified Oils of Olive and Coconut; Neem Oil; Rosemary Essential Oil
---
Related Items
across the horizon | conversation bar
$ 5.25
---
Minty and crisp. A blend of peppermint, spearmint, tea tree, lemon, rosemary, eucalyptus essential oils...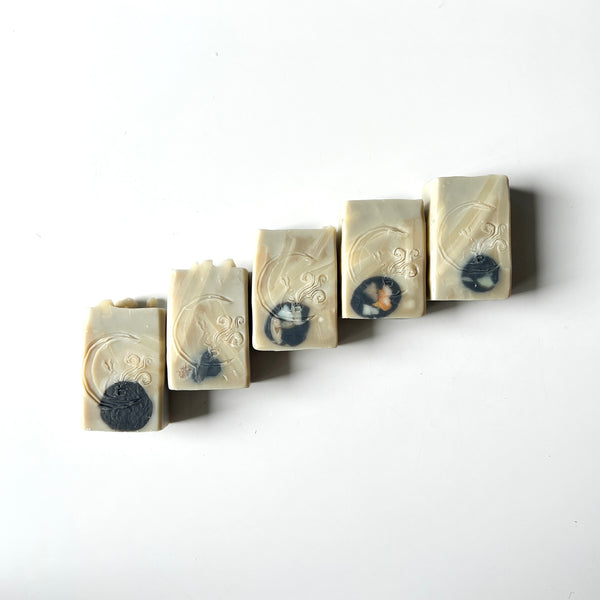 ancient vision | conversation bar
$ 5.25
---
Grounding and enlivening. A blend of 4 types of cedar wood essential oils, along with...
Beard Balm
$ 10.50
---
Use this pure and natural balm as a leave-in conditioner and styling aid to keep...
data-name="Neem Oil Soap with Rosemary" data-url="https://bunnysbath.com/products/neem-oil-soap-with-rosemary" data-image-url="//bunnysbath.com/cdn/shop/products/image_a8ac46a0-2723-4703-9840-aa40fc87119b_large.jpg%3Fv=1565148164" data-description="<p>This creamy, rich lathering soap has been superfatted with Neem Oil, which is an amazing oil that has been valued for centuries for its therapeutic properties.</p> <p>Neem Oil is moisturizing and has regenerative properties, but it doesn't have the most pleasant smell so we have added Rosemary Essential Oil to give this soap a refreshing scent.</p> <p>Bar is approximately 5 oz net wt</p> <p><strong>Ingredients</strong></p> <p>Saponified Oils of Olive and Coconut; Neem Oil; Rosemary Essential Oil</p>">