Raspberry Seed Oil Lotion with Zinc Oxide
$ 9.25
---
This creamy lotion is made with Red Raspberry Seed Oil, which reportedly may act as a broad-spectrum UV-A and UV-B shield.
It also contains non-nano Zinc Oxide powder that adds physical barrier sunscreen properties, plus Virgin Coconut Oil protects the skin without blocking beneficial UV rays by preventing free radicals caused sun exposure.
Meadowfoam Seed Oil is particularly nice for this lotion because it forms a moisture barrier on the skin and reportedly provides UV protection.
We've also added a hint of Lavender Essential Oil to freshen and counteract the somewhat earthy scent of the Raspberry Seed Oil.

We have field tested this product, as have several customers, but please note that it has not been laboratory tested to determine an actual SPF value. Therefore, we market it as a lotion and not a sunscreen product, and we recommend that you use it with caution.

Ingredients
Distilled Water; Red Raspberry Seed Oil; Plant-based Emulsifying Wax; Non-Nano Zinc Oxide; Organic Virgin Coconut Oil; Meadowfoam Seed Oil; Glycerin; Lactic Acid; Stearic Acid; Vitamin E (T-50); Lavender Essential Oil; Citric Acid; Potassium Sorbate
---
Related Items
across the horizon | conversation bar
$ 5.25
---
Minty and crisp. A blend of peppermint, spearmint, tea tree, lemon, rosemary, eucalyptus essential oils...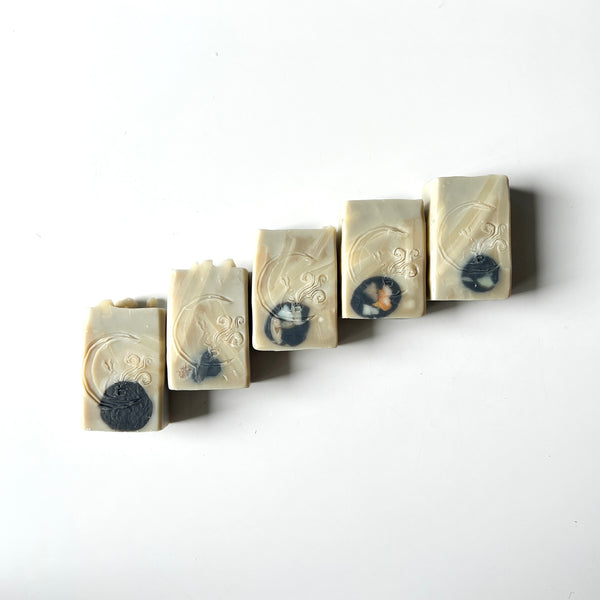 ancient vision | conversation bar
Sold Out
---
Grounding and enlivening. A blend of 4 types of cedar wood essential oils, along with...
Beard Balm
$ 10.50
---
Use this pure and natural balm as a leave-in conditioner and styling aid to keep...
data-name="Raspberry Seed Oil Lotion with Zinc Oxide" data-url="https://bunnysbath.com/products/raspberry-seed-oil-lotion-with-zinc-oxide" data-image-url="//bunnysbath.com/cdn/shop/products/image_ba0e1708-11b2-45c8-8f6d-370e540fc27a_large.jpg%3Fv=1589482523" data-description="<p><em><meta charset="utf-8"></em>This creamy lotion is made with Red Raspberry Seed Oil, which reportedly may act as a broad-spectrum UV-A and UV-B shield.</p> <p>It also contains non-nano Zinc Oxide powder that adds physical barrier sunscreen properties, plus Virgin Coconut Oil protects the skin without blocking beneficial UV rays by preventing free radicals caused sun exposure.</p> <p>Meadowfoam Seed Oil is particularly nice for this lotion because it forms a moisture barrier on the skin and reportedly provides UV protection.</p> <p>We've also added a hint of Lavender Essential Oil to freshen and counteract the somewhat earthy scent of the Raspberry Seed Oil. <br><br>We have field tested this product, as have several customers, but please note that it has not been laboratory tested to determine an actual SPF value. Therefore, we market it as a lotion and not a sunscreen product, and we recommend that you use it with caution.<br><br><strong>Ingredients</strong><br>Distilled Water; Red Raspberry Seed Oil; Plant-based Emulsifying Wax; Non-Nano Zinc Oxide; Organic Virgin Coconut Oil; Meadowfoam Seed Oil; Glycerin; Lactic Acid; Stearic Acid; Vitamin E (T-50); Lavender Essential Oil; Citric Acid; Potassium Sorbate</p>">