Shower & Shaving Soap
$ 8.50
---
NEW SCENT - Rustic Twilight
Our shower and shaving soap bars are some of our most popular items. 
This creamy soap bar with masculine scents has the addition of kaolin clay giving it a smooth glide for a razor. Both men and women are fans of these soap bars.  
Cedarwood Sage - the smell of the outdoors in a fresh and woodsy scent 
Oakmoss Patchouli - a rich earthy scent with a hint of patchouli 
Rustic Twilight - warm and complex with hay, birchwood and spice
Sandalwood - exotic, woodsy, and invigorating
Shave & A Haircut - clean and masculine aftershave scent
Sunny Forest - bright, fresh green forest
5 oz net wt
Ingredients
Saponified Oils of Coconut, Olive, Castor, and Shea Butter, Aloe Vera; Kaolin Clay; Essential Oil & Fragrance Oil 
---
Related Items
across the horizon | conversation bar
$ 5.25
---
Minty and crisp. A blend of peppermint, spearmint, tea tree, lemon, rosemary, eucalyptus essential oils...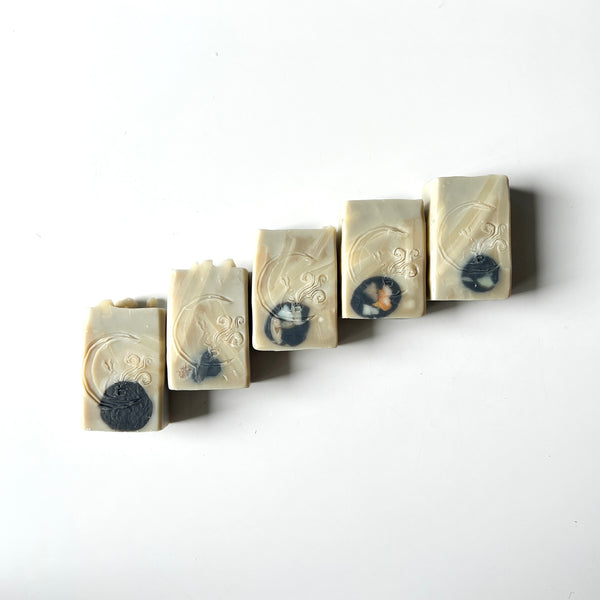 ancient vision | conversation bar
$ 5.25
---
Grounding and enlivening. A blend of 4 types of cedar wood essential oils, along with...
Beard Balm
$ 10.50
---
Use this pure and natural balm as a leave-in conditioner and styling aid to keep...
data-name="Shower & Shaving Soap" data-url="https://bunnysbath.com/products/shower-shaving-soap" data-image-url="//bunnysbath.com/cdn/shop/products/image_2740b67c-2db3-49dd-9a6a-50794c79d8b9_large.heic%3Fv=1664477177" data-description="<p>NEW SCENT - Rustic Twilight</p> <p>Our shower and shaving soap bars are some of our most popular items. </p> <meta charset="utf-8"> <p><span>This creamy soap bar with masculine scents has the addition of kaolin clay giving it a smooth glide for a razor. Both men and women are fans of these soap bars.  </span></p> <ul> <li>Cedarwood Sage - the smell of the outdoors in a fresh and woodsy scent </li> <li>Oakmoss Patchouli - a rich earthy scent with a hint of patchouli </li> <li>Rustic Twilight - warm and complex with hay, birchwood and spice</li> <li>Sandalwood - exotic, woodsy, and invigorating</li> <li>Shave &amp; A Haircut - clean and masculine aftershave scent</li> <li>Sunny Forest - bright, fresh green forest</li> </ul> <p>5 oz net wt</p> <p><strong>Ingredients</strong></p> <p>Saponified Oils of Coconut, Olive, Castor, and Shea Butter, Aloe Vera; Kaolin Clay; Essential Oil &amp; Fragrance Oil </p>">