Soy Wax Melts
$ 5.00
---
These lovely little hexagons are the perfect little melts to toss into your wax melter. Made with premium soy wax and fragrance oils or essential oils. Packed in a sweet little paper box with 9 melts.
Add one to your melter or two if you'd like extra scent and enjoy for around 8 hours.
For easy removal, pop into the freezer overnight.
2.5oz net wt
Available in a variety of scents : * made with essential oils
Fresh Citrus * - bright, citrus, sunny

Lavender * - classic and relaxing
Lavender Sage * - spa-like relaxing
Orange Clove Cinnamon * - sweet, warm, spicy
Patchouli Campfire - earthy version of the best campfire
Peppermint Eucalyptus * - minty, cleansing, soothing
Pumpkin Spice - SEASONAL
Sandalwood - earthy, grounding, bold
Sea Moss - cool, ozone, wet
Spiced Apple - SEASONAL
Sweetgrass - bright, fresh, grassy
Vanilla Bean - a classic warm vanilla
---
Related Items
across the horizon | conversation bar
$ 5.25
---
Minty and crisp. A blend of peppermint, spearmint, tea tree, lemon, rosemary, eucalyptus essential oils...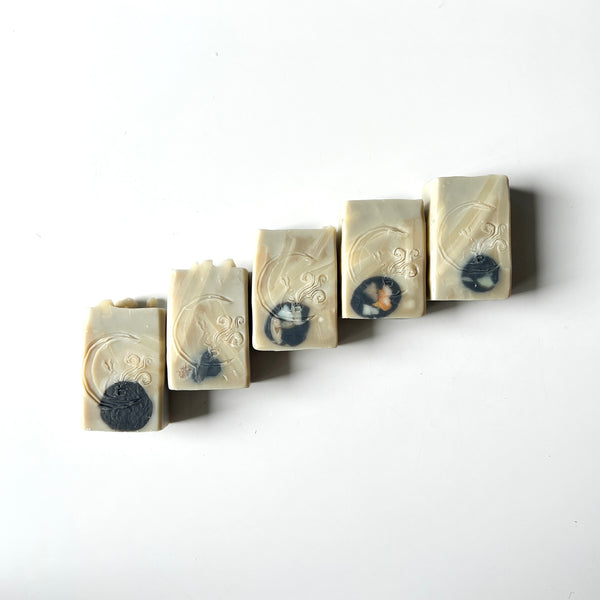 ancient vision | conversation bar
Sold Out
---
Grounding and enlivening. A blend of 4 types of cedar wood essential oils, along with...
Beard Balm
$ 10.50
---
Use this pure and natural balm as a leave-in conditioner and styling aid to keep...
data-name="Soy Wax Melts" data-url="https://bunnysbath.com/products/soy-wax-melts" data-image-url="//bunnysbath.com/cdn/shop/products/image_c1cb02a6-718a-4433-97f9-352ed22c7089_large.jpg%3Fv=1604516664" data-description="<p>These lovely little hexagons are the perfect little melts to toss into your wax melter. Made with premium soy wax and fragrance oils or essential oils. Packed in a sweet little paper box with 9 melts.</p> <p>Add one to your melter or two if you'd like extra scent and enjoy for around 8 hours.</p> <p>For easy removal, pop into the freezer overnight.</p> <p>2.5oz net wt</p> <p>Available in a variety of scents : * made with essential oils</p> <ul> <li> <strong>Fresh Citrus</strong> * - bright, citrus, sunny<br> </li> <li> <strong>Lavender</strong> * - classic and relaxing</li> <li> <strong>Lavender Sage</strong> * - spa-like relaxing</li> <li> <strong>Orange Clove Cinnamon</strong> * - sweet, warm, spicy</li> <li> <strong>Patchouli Campfire </strong>- earthy version of the best campfire</li> <li> <strong>Peppermint Eucalyptus</strong> * - minty, cleansing, soothing</li> <li> <strong>Pumpkin Spice</strong> - SEASONAL</li> <li> <strong>Sandalwood</strong> - earthy, grounding, bold</li> <li> <strong>Sea Moss</strong> - cool, ozone, wet</li> <li> <strong>Spiced Apple</strong> - SEASONAL</li> <li> <strong>Sweetgrass </strong>- bright, fresh, grassy</li> <li> <strong>Vanilla Bean </strong>- a classic warm vanilla</li> </ul> <p> </p>">