Spiced Cashmere Ozone Mist
$ 12.00
---
Imagine slipping into the softest and warmest oversized sweater, grabbing your favorite hot beverage, and sinking down into a well worn sofa in front of a crackling fire.
Warm and cozy with some cinnamon and nutmeg spice, along with vanilla, citrus and everygreen. The scent is complex and subtle in a mystical way that seems to morph and deepen. 
Mist this blend on your body for a subtle scent or in the air to make any room more cozy. 
Packaged in a 4 oz aluminum bottle.
Ingredients
Distilled Water; Aloe Vera Gel; Glycerine; Essential Oil Blend
---
Related Items
Lip Balm
$ 4.25
---
2 new flavors! Cinnamon and Mandarin Orange Delicious flavors along with emollient and smooth glide...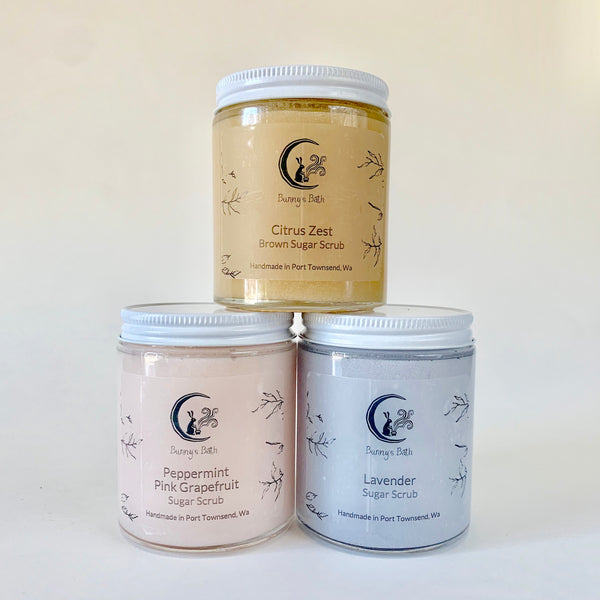 Sugar Scrubs
$ 9.00
---
You'll love how soft and smooth your skin will feels when you use these gently...
Cream Deodorant
$ 10.50
---
This aluminum-free natural cream deodorant is gentle and non-greasy. It uses zinc oxide, silver citrate,...
data-name="Spiced Cashmere Ozone Mist" data-url="https://bunnysbath.com/products/spiced-cashmere-ozone-mist" data-image-url="//bunnysbath.com/cdn/shop/files/FullSizeRender_421ee851-fdae-4a74-ad7d-91641d7decab_large.jpg%3Fv=1698099561" data-description="<p>Imagine slipping into the softest and warmest oversized sweater, grabbing your favorite hot beverage, and sinking down into a well worn sofa in front of a crackling fire.</p> <p><meta charset="utf-8"><span>Warm and cozy with some cinnamon and nutmeg spice, along with vanilla, citrus and everygreen. The scent is complex and subtle in a mystical way that seems to morph and deepen. </span></p> <p><span>Mist this blend on your body for a subtle scent or in the air to make any room more cozy. </span></p> <p>Packaged in a 4 oz aluminum bottle.</p> <p><strong>Ingredients<br></strong>Distilled Water; Aloe Vera Gel; Glycerine; Essential Oil Blend</p>">