Village Soap
$ 4.00
---
Everyone should have access to great soap.  
Our Village Soap is made from leftover soap scraps bonded together with our Moisture Soap with Shea Butter base. Each bar is unique and contains different colors and scents. In a sense, each bar is it's own little village.
We sell this soap on a sliding scale - you choose what to pay. And for every two bars of Village Soap we sell, Bunny's Bath will donate one bar to Dove House in Port Townsend. 
It takes a village to make sure everybody gets the support they need. We hope that everybody in our little village will love this soap. 
Ingredients: Saponified Oils of Olive, Coconut, Avocado, Shea Butter and Castor Oil; Silk Fibers; Activated Charcoal and may contain Essential Oils, Fragrance Oils, Aloe Vera, Neem Oil, Cocoa Butter, Hemp Oil, Rosehip Seed Oil, Clay, Poppy Seeds, Corn Grits, Mica, Nutmeg, Dried Flowers, Natural Colorants
For more information on Dove House and the wonderful things they do head to their website - dovehousejc.org
*This soap does not qualify for additional discounts.
---
Related Items
across the horizon | conversation bar
$ 5.25
---
Minty and crisp. A blend of peppermint, spearmint, tea tree, lemon, rosemary, eucalyptus essential oils...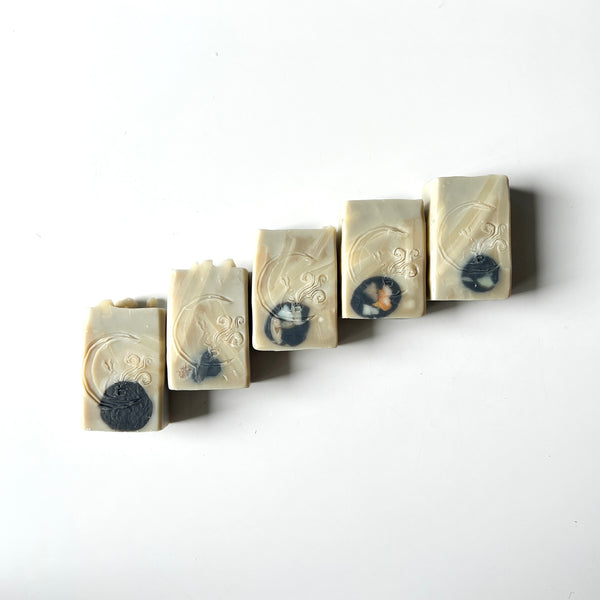 ancient vision | conversation bar
$ 5.25
---
Grounding and enlivening. A blend of 4 types of cedar wood essential oils, along with...
Beard Balm
$ 10.50
---
Use this pure and natural balm as a leave-in conditioner and styling aid to keep...
data-name="Village Soap" data-url="https://bunnysbath.com/products/village-soap" data-image-url="//bunnysbath.com/cdn/shop/products/image_5db92491-7c0d-4202-bde8-e10a0d72ec03_large.jpg%3Fv=1586523885" data-description="<p>Everyone should have access to great soap.  </p> <p>Our Village Soap is made from leftover soap scraps bonded together with our Moisture Soap with Shea Butter base. Each bar is unique and contains different colors and scents. In a sense, each bar is it's own little village.</p> <p>We sell this soap on a sliding scale - you choose what to pay. And for every two bars of Village Soap we sell, Bunny's Bath will donate one bar to <span style="text-decoration: underline;"><a href="https://www.dovehousejc.org/" title="Dove House" target="_blank">Dove House</a></span> in Port Townsend. </p> <p>It takes a village to make sure everybody gets the support they need. We hope that everybody in our little village will love this soap. </p> <p>Ingredients: Saponified Oils of Olive, Coconut, Avocado, Shea Butter and Castor Oil; Silk Fibers; Activated Charcoal and may contain Essential Oils, Fragrance Oils, Aloe Vera, Neem Oil, Cocoa Butter, Hemp Oil, Rosehip Seed Oil, Clay, Poppy Seeds, Corn Grits, Mica, Nutmeg, Dried Flowers, Natural Colorants</p> <p> </p> <p>For more information on Dove House and the wonderful things they do head to their website - <span style="text-decoration: underline;"><a href="https://www.dovehousejc.org/" title="dovehousejc.org" target="_blank">dovehousejc.org</a></span></p> <p>*This soap does not qualify for additional discounts.</p>">