Yule Forest Bar Soap
$ 10.00
---
Inspired by the Japanese art of shinrin-yoku, or forest bathing, this sudsy bar soap smells like a patch of forest in the Pacific Northwest with the faint scent of the Yuletide holiday drifting in the distance. A dreamy and green essential oil blend of fir needle, frankincense, cypress, orange and cinnamon. 
We have a limited supply, be sure to get your bar before we run out!
5 oz net wt
Ingredients - Saponified oils of olive, coconut, and jojoba; essential oil blend; sea clay; and green mica
---
Related Items
across the horizon | conversation bar
$ 5.25
---
Minty and crisp. A blend of peppermint, spearmint, tea tree, lemon, rosemary, eucalyptus essential oils...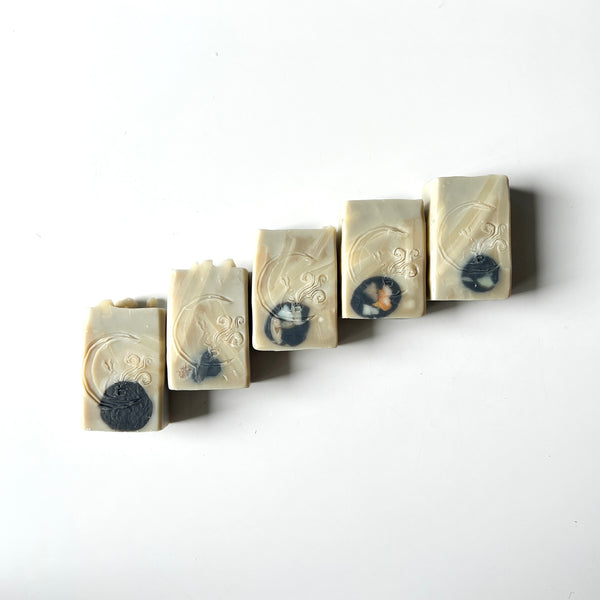 ancient vision | conversation bar
Sold Out
---
Grounding and enlivening. A blend of 4 types of cedar wood essential oils, along with...
bright tomorrow | conversation bar
Sold Out
---
Fresh, citrus, and bright blend of orange, rosemary, lavender and citrus essential oils. Colored with...
data-name="Yule Forest Bar Soap" data-url="https://bunnysbath.com/products/yule-forest-bar-soap" data-image-url="//bunnysbath.com/cdn/shop/files/1CD9945D-D9A7-409A-8ED4-8CFE7EAEC4FD_large.jpg%3Fv=1698099527" data-description="<p>Inspired by the Japanese art of <span>shinrin-yoku, or forest bathing, this sudsy bar soap s</span>mells like a patch of forest in the Pacific Northwest with the faint scent of the Yuletide holiday drifting in the distance. A dreamy and green essential oil blend of fir needle, frankincense, cypress, orange and cinnamon. </p> <p>We have a limited supply, be sure to get your bar before we run out!</p> <p>5 oz net wt</p> <p><strong>Ingredients</strong> - Saponified oils of olive, coconut, and jojoba; essential oil blend; sea clay; and green mica</p>">