Shea Butter Cream
$ 19.00
---
This all-natural cream is rich with skin-softening organic unrefined shea butter and other rejuvenating oils like avocado and macadamia nut. You'll love the rich, creamy feel and want to use it daily to moisturize dry, chapped skin.
Shea butter is a skin superfood that comes from the seeds of the fruit of the Shea (Karite) tree and that is naturally rich in vitamins A, E and F and provides the skin with essential fatty acids and the nutrients necessary for collagen production.
Available in:
Basil Patchouli*
Fragrance Free 
Fresh Citrus* 
Juniper Bergamot*
Lavender* 
Lavender Sage*
Lavender Vanilla (Essential Oil & Fragrance Oil blend) 
Lemongrass Tangerine* 
Palmarosa Grapefruit* 
Rose Geranium* 
Walk in the Woods* - NEW SCENT
Fragrances with an * are scented with Essential Oils
Packaged in an 8oz glass jar that is food and dishwasher safe. Please use the jar over and over.

Ingredients
Distilled Water; Organic Shea Butter; Plant-Based Emulsifying Wax; Avocado Oil; Macadamia Nut Oil; Organic Virgin Coconut Oil; Glycerin; Essential Oil (except Fragrance Free); Lactic Acid; Vitamin E (T-50); Citric Acid; Potassium Sorbate
---
Related Items
Lip Balm
$ 4.00
---
2 new flavors! Cinnamon and Mandarin Orange Delicious flavors along with emollient and smooth glide...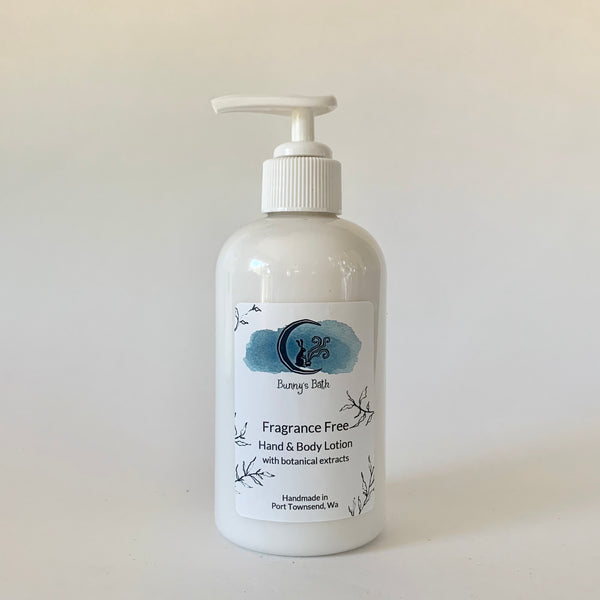 Hand & Body Lotion
$ 18.00
---
This moisturizing hand & body lotion is rich with nourishing oils, beautifully scented with pure...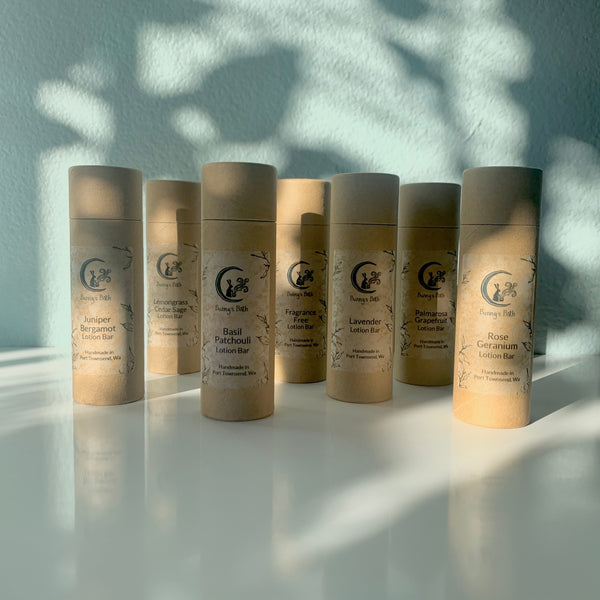 Lotion Bars
$ 13.25
---
You'll love the convenience of this extra rich, solid lotion made with creamy organic unrefined...
data-name="Shea Butter Cream" data-url="https://bunnysbath.com/products/shea-butter-creams" data-image-url="//bunnysbath.com/cdn/shop/products/image_5cfbe68b-32af-476b-b1e6-5ed77ee68238_large.jpg%3Fv=1605537881" data-description="<p>This all-natural cream is rich with skin-softening organic unrefined shea butter and other rejuvenating oils like avocado and macadamia nut. You'll love the rich, creamy feel and want to use it daily to moisturize dry, chapped skin.</p> <p><span>Shea butter is a skin superfood that comes from the seeds of the fruit of the Shea (Karite) tree and that is naturally rich in vitamins A, E and F and provides the skin with essential fatty acids and the nutrients necessary for collagen production.</span></p> <p>Available in:</p> <ul> <li>Basil Patchouli*</li> <li>Fragrance Free </li> <li>Fresh Citrus* </li> <li>Juniper Bergamot*</li> <li>Lavender* </li> <li>Lavender Sage*</li> <li>Lavender Vanilla (Essential Oil &amp; Fragrance Oil blend) </li> <li>Lemongrass Tangerine* </li> <li>Palmarosa Grapefruit* </li> <li>Rose Geranium* </li> <li>Walk in the Woods* - NEW SCENT</li> </ul> <p>Fragrances with an * are scented with Essential Oils</p> <p>Packaged in an 8oz glass jar that is food and dishwasher safe. Please use the jar over and over.<br><br><strong>Ingredients</strong><br>Distilled Water; Organic Shea Butter; Plant-Based Emulsifying Wax; Avocado Oil; Macadamia Nut Oil; Organic Virgin Coconut Oil; Glycerin; Essential Oil (except Fragrance Free); Lactic Acid; Vitamin E (T-50); Citric Acid; Potassium Sorbate</p>">