Brightening Face Cream
$ 25.00
---
This daily moisturizer provides immediate and long-lasting results, with a host of skin-loving ingredients. Formulated to brighten skin instantly and improve it over time. Camellia seed oil repairs and restores collagen, ensuring a more resilient and youthful complexion. Iris extract reduces the depth of wrinkles. Licorice root extract protects against free radicals and UV rays. Vitamin C brightens and Coenzyme Q10 reduces fine lines and wrinkles.
Use after Humxn face wash or complexion bars.
Best when used within 6 months of opening. 
Packaged in amber glass jars

Ingredients: Lavender Hydrosol; Rose Hydrosol; Organic Camellia Seed Oil; Cranberry Seed Oil; Iris Florentia Extract; Licorice Root Extract; Plant-Based Emulsifying Wax; Raspberry Seed Oil; Olive Squalane; Meadowfoam Seed Oil; Organic Extra Virgin Olive Oil; Pomegranate Seed Oil; Rosehip Seed Oil; Vegetable Glycerine; Helichrysum Extract; Pro-Vitamin B5 (Panthenol); Tamanu Oil; Vitamin C (Magnesium Ascorbyl Phosphate); Gotu Kola Extract (Centella Asiatica); Organic Hibiscus Extract; Lemon Peel Bioferment; Stearic Acid; Vitamin B3 (Niacinamide); Gingko Biloba Leaf Extract; Silk Powder; Coenzyme Q10 Powder; Vitamin E (T-50); Sea Buckthorn CO2 Extract; Essential Oil Blend of Carrot Seed, Rose, Palmarosa, German Chamomile; Immortelle, Geranium and Orange; Silverion; Potassium Sorbate; Citric Acid
---
Related Items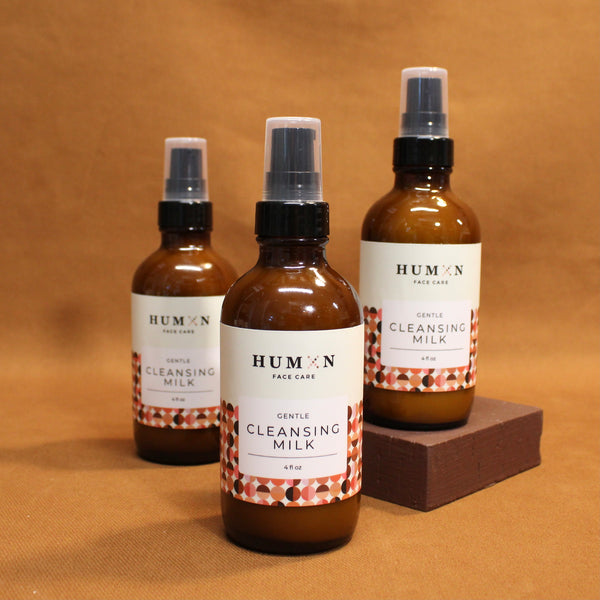 Gentle Cleansing Milk
$ 17.90
---
Simplify your skincare routine while maintaining a healthy glow. This gentle formula effectively cleans, moisturizes,...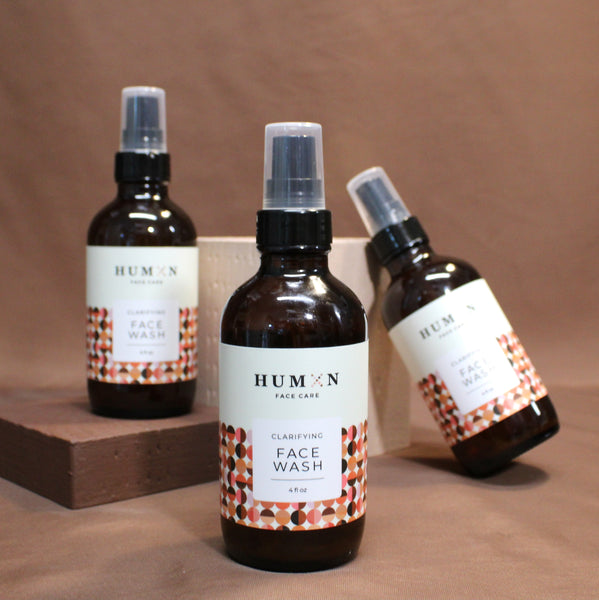 Clarifying Face Wash
$ 14.00
---
This gentle face wash cleans and refreshes, and is formulated for daily use. With a...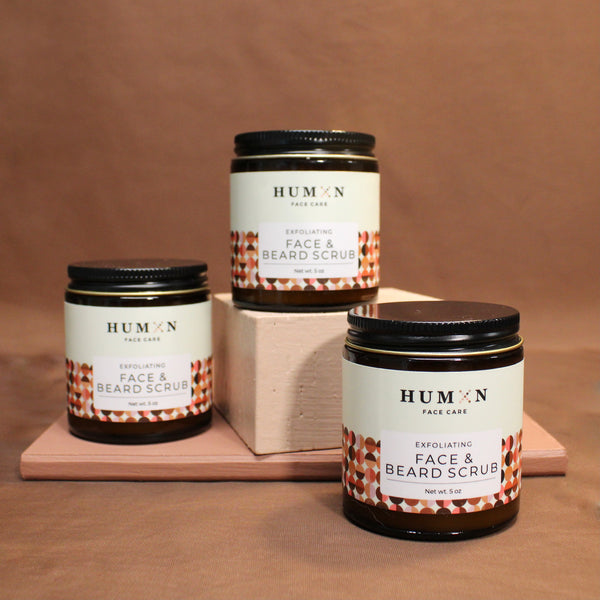 Exfoliating Face & Beard Scrub
$ 14.50
---
Get a clean slate with this exfoliating scrub. Polishing sugar granules lift and remove dead skin...
data-name="Brightening Face Cream" data-url="https://bunnysbath.com/products/humxn-brightening-face-cream" data-image-url="//bunnysbath.com/cdn/shop/products/image_1a73ec0a-e16f-4be8-8333-079cd236dd39_large.jpg%3Fv=1624853306" data-description="<p><strong><span style="font-weight: 400;">This daily moisturizer provides immediate and long-lasting results, with a host of skin-loving ingredients. </span></strong><strong><span style="font-weight: 400;">Formulated to brighten skin instantly and improve it over time. </span></strong><strong><span style="font-weight: 400;">Camellia seed oil repairs and restores collagen, ensuring a more resilient and youthful complexion. </span></strong><strong><span style="font-weight: 400;">Iris extract reduces the depth of wrinkles. </span></strong><strong><span style="font-weight: 400;">Licorice root extract protects against free radicals and UV rays. </span></strong><strong><span style="font-weight: 400;">Vitamin C brightens and Coenzyme Q10 reduces fine lines and wrinkles.</span></strong></p> <p><strong><span style="font-weight: 400;">Use after Humxn face wash or complexion bars.</span></strong></p> <p><strong><span style="font-weight: 400;">Best when used within 6 months of opening. </span></strong></p> <p>Packaged in amber glass jars<br><br><strong>Ingredients</strong>: <span data-mce-fragment="1" style="font-weight: 400;">Lavender Hydrosol; Rose Hydrosol; Organic Camellia Seed Oil; Cranberry Seed Oil; Iris Florentia Extract; Licorice Root Extract; Plant-Based Emulsifying Wax; Raspberry Seed Oil; Olive Squalane; Meadowfoam Seed Oil; Organic Extra Virgin Olive Oil; Pomegranate Seed Oil; Rosehip Seed Oil; Vegetable Glycerine; Helichrysum Extract; Pro-Vitamin B5 (Panthenol); Tamanu Oil; Vitamin C (Magnesium Ascorbyl Phosphate); Gotu Kola Extract (Centella Asiatica); Organic Hibiscus Extract; Lemon Peel Bioferment; Stearic Acid; Vitamin B3 (Niacinamide); Gingko Biloba Leaf Extract; Silk Powder; Coenzyme Q10 Powder; Vitamin E (T-50); Sea Buckthorn CO2 Extract; Essential Oil Blend of Carrot Seed, Rose, Palmarosa, German Chamomile; Immortelle, Geranium and Orange; Silverion; Potassium Sorbate; Citric Acid</span></p>">