Dead Sea Mud Soap
$ 9.00
---
Sink deep into thick, mineral rich dead sea mud and a blend of vivid and earthy essential oils.
Dead sea mud is made of silt from the Judean mountains that sunk into the Dead Sea. It is world famous for its purifying, restorative and therapeutic properties. 
Grapeseed oil which is know to be high in vitamin E and contains natural chlorophyll and antioxidants, along with shea butter which has been used by healers for centuries, creates a wonderfully balancing bar of soap. 
We've created a grounding, muddy essential blend with vetiver, patchouli, frankincense, lavender and citrus.
We have a limited supply, be sure to get your bar before we run out!

5 oz net wt
Ingredients - Saponified Oils of Coconut, Grapeseed, Olive, Sunflower, and Shea Butter; Dead Sea Mud; Essential Oil Blend.
---
Related Items
across the horizon | conversation bar
$ 5.25
---
Minty and crisp. A blend of peppermint, spearmint, tea tree, lemon, rosemary, eucalyptus essential oils...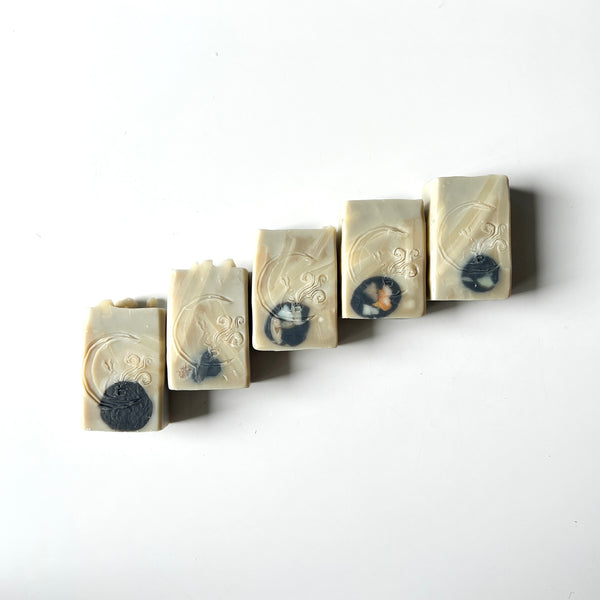 ancient vision | conversation bar
Sold Out
---
Grounding and enlivening. A blend of 4 types of cedar wood essential oils, along with...
bright tomorrow | conversation bar
Sold Out
---
Fresh, citrus, and bright blend of orange, rosemary, lavender and citrus essential oils. Colored with...
data-name="Dead Sea Mud Soap" data-url="https://bunnysbath.com/products/dead-sea-mud-soap" data-image-url="//bunnysbath.com/cdn/shop/products/image_04e68eac-86da-49b2-9ca6-dacb08e778c3_large.heic%3Fv=1654576506" data-description="<p>Sink deep into thick, mineral rich dead sea mud and a blend of vivid and earthy essential oils.</p> <p>Dead sea mud is made of silt from the Judean mountains that sunk into the Dead Sea. It is world famous for its purifying, restorative and therapeutic properties. <br>Grapeseed oil which is know to be high in vitamin E and contains natural chlorophyll and antioxidants, along with shea butter which has been used by healers for centuries, creates a wonderfully balancing bar of soap. </p> <p>We've created a grounding, muddy essential blend with vetiver, patchouli, frankincense, lavender and citrus.</p> <p>We have a limited supply, be sure to get your bar before we run out!<br></p> <p>5 oz net wt</p> <p><strong>Ingredients</strong> - Saponified Oils of Coconut, Grapeseed, Olive, Sunflower, and Shea Butter; Dead Sea Mud; Essential Oil Blend.</p>">