Exfoliating Soap Bag
$ 4.00
---
Eco-friendly sisal soap bags are made of natural fibers to exfoliate the skin and/or massage the day away. The friction of these bags on your skin creates a rich foam, releasing dead skin cells and promoting blood circulation. Their drawstring design allows you to hang the sponge-like soap bag in your shower or on your bathtub tap to dry, keeping your soap close at hand for your next scrub. 
Throw the last little silvers of bar soap into this exfoliating soap bag to use every little bit of your soap. 
100% organic
6 x 3.3 x 0.4 inches
---
Related Items
across the horizon | conversation bar
$ 5.25
---
Minty and crisp. A blend of peppermint, spearmint, tea tree, lemon, rosemary, eucalyptus essential oils...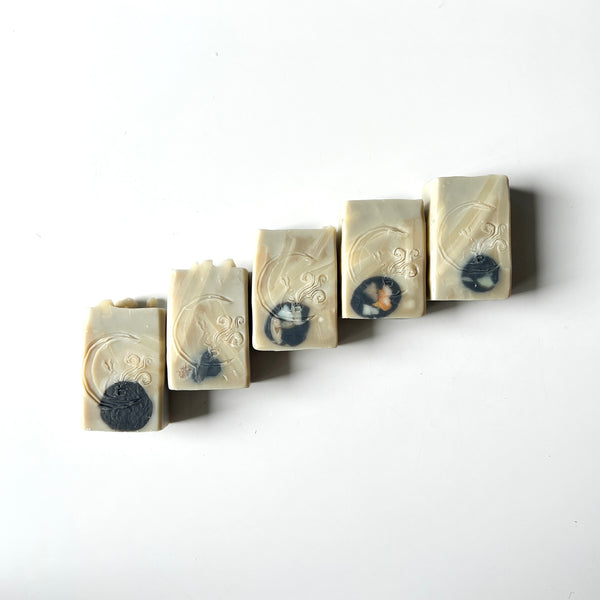 ancient vision | conversation bar
$ 5.25
---
Grounding and enlivening. A blend of 4 types of cedar wood essential oils, along with...
bright tomorrow | conversation bar
$ 5.25
---
Fresh, citrus, and bright blend of orange, rosemary, lavender and citrus essential oils. Colored with...
data-name="Exfoliating Soap Bag" data-url="https://bunnysbath.com/products/exfoliating-soap-bag" data-image-url="//bunnysbath.com/cdn/shop/products/image_f5500437-4b8d-478c-88d6-9ea92d19085d_large.heic%3Fv=1668624864" data-description="<p><meta charset="utf-8"><span data-mce-fragment="1">Eco-friendly sisal soap bags are made of natural fibers to exfoliate the skin and/or massage the day away. The friction of these bags on your skin creates a rich foam, releasing dead skin cells and promoting blood circulation. Their drawstring design allows you to hang the sponge-like soap bag in your shower or on your bathtub tap to dry, keeping your soap close at hand for your next scrub. </span></p> <p><span data-mce-fragment="1">Throw the last little silvers of bar soap into this exfoliating soap bag to use every little bit of your soap. </span></p> <p><span data-mce-fragment="1"><meta charset="utf-8">100% organic<br>6 x 3.3 x 0.4 inches</span></p>">