Salty Sea Soap
$ 8.00
---
Bright, fresh, clean and crisp, this blend of essential oils will transport you to the salty ocean side. Pink sea salt adds mild exfoliation, while indigo powder gives it a lovely blue hue.
5 oz square bar
Ingredients - Saponified oils of Coconut, Olive, Castor and Mango Butter; Himalayan Pink Sea Salt; Essential Oil Blend; and Indigo Powder
---
Related Items
across the horizon | conversation bar
$ 5.25
---
Minty and crisp. A blend of peppermint, spearmint, tea tree, lemon, rosemary, eucalyptus essential oils...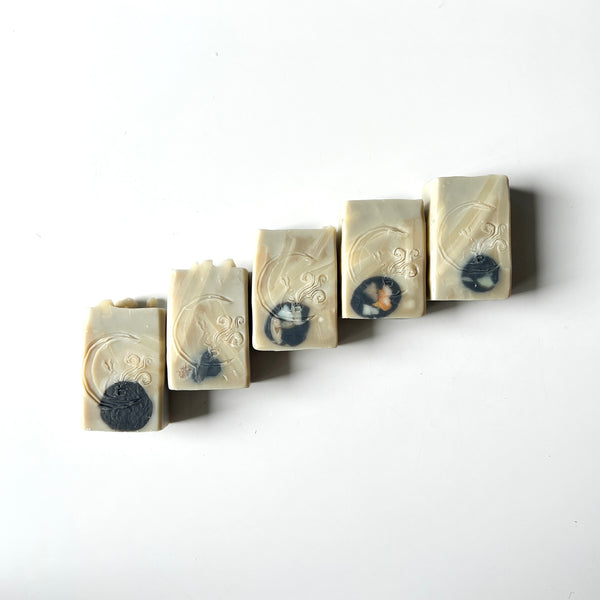 ancient vision | conversation bar
$ 5.25
---
Grounding and enlivening. A blend of 4 types of cedar wood essential oils, along with...
bright tomorrow | conversation bar
$ 5.25
---
Fresh, citrus, and bright blend of orange, rosemary, lavender and citrus essential oils. Colored with...
data-name="Salty Sea Soap" data-url="https://bunnysbath.com/products/salty-sea-soap" data-image-url="//bunnysbath.com/cdn/shop/products/image_b91bf6b7-f6cd-4a78-99f3-570daad6b223_large.jpg%3Fv=1635721573" data-description="<p>Bright, fresh, clean and crisp, this blend of essential oils will transport you to the salty ocean side. Pink sea salt adds mild exfoliation, while indigo powder gives it a lovely blue hue.</p> <p>5 oz square bar</p> <p><strong>Ingredients - </strong>Saponified oils of Coconut, Olive, Castor and Mango Butter; Himalayan Pink Sea Salt; Essential Oil Blend; and Indigo Powder</p>">