Bath Salt Soak
$ 15.00
---
This premium blend of pacific & cold water ocean salts and epsom salt with pure essential oil is perfect for treating yourself or for gift giving. Each jar is made fresh per order.
Just add 1/3 to 1/2 cup to bath water to enjoy a relaxing spa experience.
Please note that hot water causes skin to eliminate instead of absorb, so the minerals of the salts are best absorbed if the water temperature is lukewarm - about 2 degrees warmer than body temperature. 
The 16oz jar contains enough for 5 to 6 baths. 
NEW SIZE - Now available in a compostable bag to refill your jar. 
Available in:
Basil Patchouli
Breathe - NEW - aromatherapy blend of camphor, eucalyptus, & tea tree
Cedar Sage Lemongrass
Forest (cedar, cypress, fir)
Juniper Bergamot
Lavender 
Lavender Sage
Lime Eucalyptus 
Orange Frankincense 
Rose Geranium
Uplifting (citrus, mint, sweet basil)
Ingredients
Premium Blend of Pacific Cold Water Salts and Epsom Salts; Dendritic Salt; Essential Oils
---
Related Items
Lip Balm
$ 4.00
---
2 new flavors! Cinnamon and Mandarin Orange Delicious flavors along with emollient and smooth glide...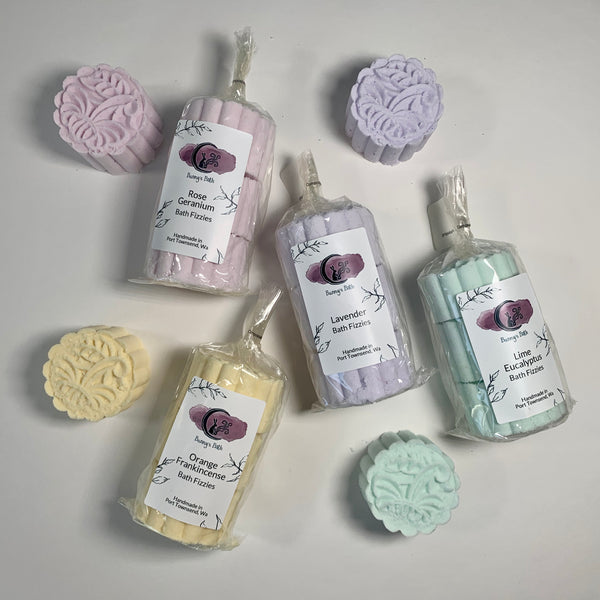 Bath Fizzies
$ 10.00
---
Drop one or two of these beauties into the tub and prepare to enjoy a...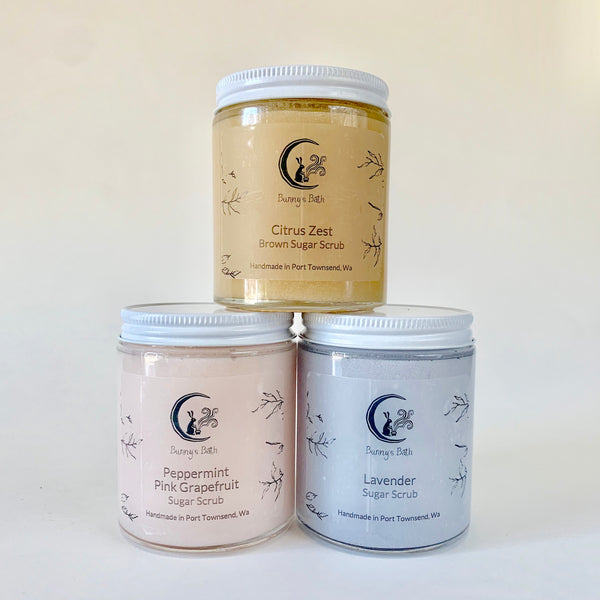 Sugar Scrubs
$ 9.00
---
You'll love how soft and smooth your skin will feels when you use these gently...
data-name="Bath Salt Soak" data-url="https://bunnysbath.com/products/bath-salt-soak" data-image-url="//bunnysbath.com/cdn/shop/products/image_85ced75a-95ef-42cd-8a35-431f2b4d1969_large.jpg%3Fv=1574625180" data-description="<p>This premium blend of pacific &amp; cold water ocean salts and epsom salt with pure essential oil is perfect for treating yourself or for gift giving. Each jar is made fresh per order.</p> <p>Just add 1/3 to 1/2 cup to bath water to enjoy a relaxing spa experience.</p> <p>Please note that hot water causes skin to eliminate instead of absorb, so the minerals of the salts are best absorbed if the water temperature is lukewarm - about 2 degrees warmer than body temperature. </p> <p>The 16oz jar contains enough for 5 to 6 baths. </p> <p>NEW SIZE - Now available in a compostable bag to refill your jar. </p> <p>Available in:</p> <ul> <li>Basil Patchouli</li> <li>Breathe - NEW - aromatherapy blend of camphor, eucalyptus, &amp; tea tree</li> <li>Cedar Sage Lemongrass</li> <li>Forest (cedar, cypress, fir)</li> <li>Juniper Bergamot</li> <li>Lavender </li> <li>Lavender Sage</li> <li>Lime Eucalyptus </li> <li>Orange Frankincense </li> <li>Rose Geranium</li> <li>Uplifting (citrus, mint, sweet basil)</li> </ul> <br><strong>Ingredients</strong><br>Premium Blend of Pacific Cold Water Salts and Epsom Salts; Dendritic Salt; Essential Oils">