Muscle Therapy Gel with Arnica
$ 19.00
---
This luxurious blend of anti-inflammatory and pain relieving oils has been thickened with Candelilla vegetable wax and beeswax to add a wonderful feel and enhanced with warming essential oils to add soothing properties.
The main ingredient is Apricot Kernel Oil that has been infused with Arnica flowers. Arnica helps to reduce pain and inflammation and is useful for joint and muscle pain.
It also includes Andiroba Oil and Passion Fruit Seed Oil, which reportedly have anti-inflammatory properties and help to relieve muscle pain.
We love this lotion for massaging sore muscles after physical activity or when we have a muscle injury, and we think you will too!
Packaged in a 4oz glass jar that is food-safe and dishwasher-safe, for you to reuse over and over.

Ingredients
Arnica Infused Apricot Kernel Oil; Grapeseed Oil; Andiroba Oil; Borage Oil; Passion Fruit Seed Oil; Shea Butter; Organic Virgin Coconut Oil; Candellia Wax; Beeswax; Essential Oils of Black Pepper, Lavender, Orange, Dalmation Sage, & Sweet Birch; Vitamin E (T-50)
---
Related Items
Lip Balm
$ 4.25
---
2 new flavors! Cinnamon and Mandarin Orange Delicious flavors along with emollient and smooth glide...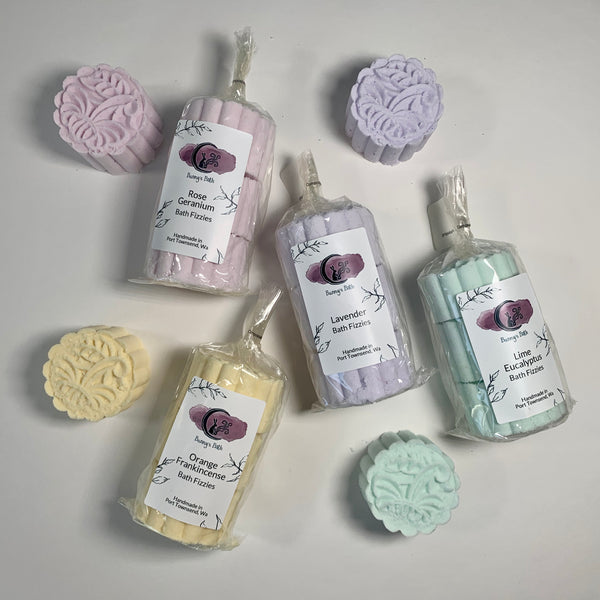 Bath Fizzies
$ 10.00
---
Drop one or two of these beauties into the tub and prepare to enjoy a...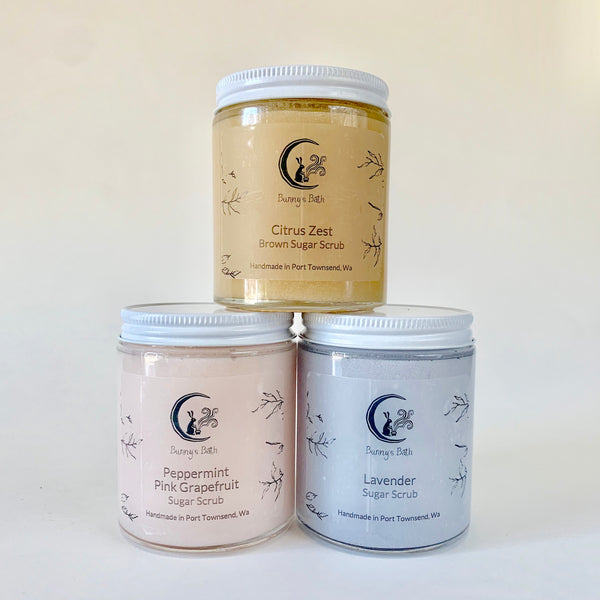 Sugar Scrubs
$ 9.00
---
You'll love how soft and smooth your skin will feels when you use these gently...
data-name="Muscle Therapy Gel with Arnica" data-url="https://bunnysbath.com/products/massage-therapy-gel-arnica" data-image-url="//bunnysbath.com/cdn/shop/products/image_cb22ce8e-4e33-4773-9ed6-4e04807bd50f_large.jpg%3Fv=1623703852" data-description="<p>This luxurious blend of anti-inflammatory and pain relieving oils has been thickened with Candelilla vegetable wax and beeswax to add a wonderful feel and enhanced with warming essential oils to add soothing properties.</p> <p>The main ingredient is Apricot Kernel Oil that has been infused with Arnica flowers. Arnica helps to reduce pain and inflammation and is useful for joint and muscle pain.</p> <p>It also includes Andiroba Oil and Passion Fruit Seed Oil, which reportedly have anti-inflammatory properties and help to relieve muscle pain.</p> <p>We love this lotion for massaging sore muscles after physical activity or when we have a muscle injury, and we think you will too!</p> <p>Packaged in a 4oz glass jar that is food-safe and dishwasher-safe, for you to reuse over and over.</p> <p><br><strong>Ingredients</strong><br>Arnica Infused Apricot Kernel Oil; Grapeseed Oil; Andiroba Oil; Borage Oil; Passion Fruit Seed Oil; Shea Butter; Organic Virgin Coconut Oil; Candellia Wax; Beeswax; Essential Oils of Black Pepper, Lavender, Orange, Dalmation Sage, &amp; Sweet Birch; Vitamin E (T-50)</p>">